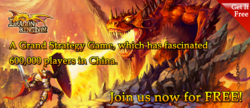 (PRWEB) May 31, 2012
Since the first release of Dragon Kingdom English version on May 14, as a large strategy game, it has been rated 4 stars in Google Play and fascinated tens of thousands of gamers in only a few areas.
In return of all gamers' love to this game, Dragon Kingdom tracked feedbacks in the first 2 weeks after the release, and a new version has been released on 29 May. The updated version fixes some bugs, and focuses on the need for interaction. It also gives players more opportunities to obtain gift. Details of updates are as follows:
1. Fixed a lot of bugs in text display.
2. Gift Packs can be obtained when the total login time reaches 1 min, 2 mins and 5 mins (instead of the previous 5 mins, 15 mins and 30 mins). It's much easier for gamers to get various Gift Packs.
3. Each Gift Pack contains a bonus of 1 Loudspeaker, which can be used to interact with other gamers directly in the game.
The new version can be downloaded from Google Play now. URL: https://play.google.com/store/apps/details?id=cn.x6game.dragonkingdomEn&feature=search_result#?t=W251bGwsMSwxLDEsImNuLng2Z2FtZS5kcmFnb25raW5nZG9tRW4iXQ.. ; or you can search for "Dragon Kingdom".
Meanwhile, X6 Game has announced its official website and forum for the need of communication between gamers. Visit http://www.x6game.org to learn more, or gamers can also go to the forum to discuss the gaming experience. X6 Game will publish latest news and guides here continuous.
Official website: http://www.x6game.org
Official forum: http://www.x6game.org/forum
Facebook: http://www.facebook.com/X6Game
Twitter: https://twitter.com/X6Game
E-mail: marketing(at)x6game(dot)org