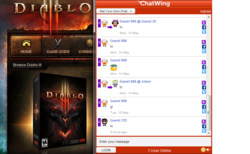 Washington, DC (PRWEB) May 29, 2012
Right after Diablo 3's imminent release, millions of gamers all over the world started buying their copies. According to Internet statistics, a lot of these players have spent quality time amounting to more than 24 hours. Despite the positive feedbacks regarding Diablo 3, many players suffered from server crashes and started to rant about it. Many feedbacks were noted in a blog chat widget known as Chatwing. This application engages in information delivery at its best.
Since Chatwing is all about website chat and the growing need for communication, it can be a great help for bloggers. Chatwing can improve a blog's online presence in just a span of days or weeks. If the blog contains wonderful content, it will gain online presence speedily. This is the reason why a lot of online entrepreneurs have chosen Chatwing's newest version. The latest version of Chatwing can accommodate up to 600 chatters in real-time.
The Chatwing development team has noted an influx of Diablo 3 gamers lately. These gamers are divided—a large bulk discusses the massive overhauls in gameplay, while the other bulk discusses server crashes and Blizzard's multiplayer connection with lags. In just a couple of days after Diablo's release, the Chatwing web chat box turned into a lounge where Diablo 3 players have engaged in discussions.
Prolonged chat discussions can make any blog or website popular, especially if the topics are interesting and controversial. "It's all about the visitors. This is the blogosphere. If a blogger doesn't know a thing about enticing visitors, then his blog will die out. A shoutbox can really entice visitors, especially if it is loaded with informational topics. Some game bloggers who are also Chatwing users have initiated Diablo 3-related topics. This created a large stream of visitors in just days," Michael Diamond said. He is one of the brains behind the simply unique Chatwing chatrooms.
About Chatwing.com
Chatwing.com has developed live chat software for websites and blogs. It caters to different online communities due to its high rate of connectivity. Everyone can create a customizable live chatbox in 1 minute or less. Users have the ability to customize the size, color, and fonts of the chat product. The ability to chat via social media accounts such as Facebook and Twitter enable Chatwing to offer a personal and unique real-time experience to all sites. Chatwing is 100% free and very easy to use.