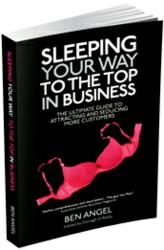 Your products and services should be a direct expression of who your customers believe themselves to be – that is the true secret to creating a thriving business in any economy."
New York (PRWEB) May 30, 2012
Ben Angel, leading personal branding specialist, wants small business to sleep their way to the top. For nearly a decade now, he has been on the quest for reasons why small business and their owners fail. His book, 'Sleeping Your Way to The Top in Business' has been downloaded over 10,000 times from his site in the last month alone. Its newly found success has been attributed to struggling business owners seeking refreshing marketing ideas with a twist.
In a recent interview, we asked him about the common mistakes that can lead any enterprise to its untimely demise.
"Now," says Angel, "small business owners must increase their marketing efforts ten-fold just to achieve the same results they previously enjoyed prior to unstable economic conditions. Businesses that tell a cautionary tale of a regurgitated business are putting themselves at risk of fading into the background."
Mr Angel advises small business must quit duplicating the strategies of their competitors to survive. "The more crowded and accessible the global marketplace becomes, the more challenging it can be to uphold the unique selling points (USP's) responsible for your initial success. Once the USP of any business has been cloned enough times, it becomes the norm. And once something is normal it fails to stand out, resulting in boundaries being pushed further and further just in order to create any significant impact."
Many consultants advise aggressive marketing during difficult times, but spending the time and money planning marketing campaigns can be daunting and won't necessarily lead to new sales unless innovative strategies are implemented he warns.
"The first thing we must assess is the psychological state of the business owner, for the only person they must sleep with to get to the top is themselves," says Ben. "They must convince themselves that they have what it takes. If they don't buy into their own vision, then how are they going to influence others to invest in their products or services."
The most common cause for business failure is a lack of cash flow, a direct result of poor sales. Many caught in a catch twenty two situation where they don't have enough money to invest in future marketing campaigns are becoming more inventive with their marketing dollar.
"Human nature is to panic and decrease prices to help move stock or sell services," says Ben "but this can be detrimental." Ben has helped inspire thousands to overhaul their business to maintain a competitive advantage in the changing economy, such as Valerie a wedding planner that increased her bridal telephone consultations to $500 per hour with the help of his advice.
"Our clients aren't dropping their prices," said Ben, "they are increasing them because they now understand how to market based on perceived value not price."
This shift in thinking seems counterintuitive, however Angel says 'you will only ever compete on price when you are unable to differentiate yourself in the marketplace. Your products and services should be a direct expression of who your customers believe themselves to be – that is the true secret to creating a thriving business in any economy."
Given away at Angel's website http://www.benangel.com.au SYWTT achieved more than 10,000 downloads within days of going live. "We're ecstatic with the response and excited to see business owners putting the practical information to good use in growing their business during these tough times," Angel says.
About the Author: Ben Angel, otherwise known as 'The Agent of Influence,' is a renowned personal branding and influence expert. As an international speaker; Ben has delivered presentations for Toyota, Australia Post, Origin Energy and AICD. His aim is to provide education to small business owners suffering from unstable economic conditions around the world.
About Sleeping Your Way to The Top in Business: Specifically designed for business guerrilla's unafraid to wage war on their own mediocrity, Sleeping Your Way to The Top in Business will show you step-by-step formula's for attracting and seducing more customers than ever before – transforming your company, your team and YOU into weapons of mass seduction.
Want to download a free copy of 'Sleeping Your Way to The Top in Business?' Visit http://www.benangel.com.au for details.