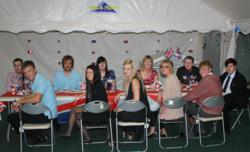 We are definitely benefiting from a rise in patriotism and community spirit with councils and organisations across the country buying multiple structures in order to celebrate the Diamond Jubilee together, Jason Mace, Gala Tent Managing Director
(PRWEB UK) 31 May 2012
Her majesty Queen Elizabeth will be the second monarch ever to celebrate their Diamond Jubilee this Saturday which is expected to inject £10 billion into the British economy. Set to be a wonderful celebration of what makes Britain great, the Jubilee weekend will give everyone a chance to mark an outstanding milestone in The Queen's reign and express feelings of patriotism.
A desired mood booster for the country, the Jubilee is expected to have the same effect on the state of melancholy as the royal wedding last year. The significant joining of the nation which this summer's events will bring has caused the questioning on the state of patriotism in the UK and the affects upon it. Patriotic members of the public are often seen as soft or corny or at times suspicious. However the British secretly love their country, its acceptance, its compassion, its antiquity and its humour but people are too ashamed to admit it.
Findings from the recent British Future/Hopes and Fears: State of the Nation 2012 study by Rachael Jolley and Sunder Katwala show that political correctness and a fear of appearing racist were said to be the main influences in the apparent lack of patriotism in England as well as the increasing impact of our inclusion in the European Union. However patriotism appears to rise during big sporting events or competitions, with 53% acknowledging that the World Cup and Olympics enhanced proud feelings of belonging and three out of 10 claimed they felt waves of patriotism in the wake of terrorist attacks on British soil.
Businesses across the country are displaying their national pride and leaping on the jubilee band wagon with jubilee themed advertising and products. The web has also caught the recent patriotic bug with new websites launched such as; Still Made in Britain, From Britain with Love and the British Products Directory who all advertise quality products made in Britain.
"At FromBritainWithLove.com, we've always championed the Great British businesses who produce innovative design-led goods here in the UK. But with the Jubilee and Olympics this year, the spotlight is well and truly on Britain and we've never had a better opportunity to showcase the talent of our nation's designers, craftspeople and manufacturers". Nicky Sherwood; Editor, From Britain with Love.
An example of a business embracing the Diamond Jubilee and incorporating patriotism to their advantage is Gala Tent Ltd, a marquee manufacturer based in Rotherham, South Yorkshire. Having recently launched a new "Designed and Built in Britain" campaign they have seen sales steadily increase with groups across the country preparing to participate in the national Big Jubilee Lunch. Research undertaken on patriotism includes an online poll demonstrating that 67% of their web site visitors wished street parties were brought back as a regular occurrence and that the south of England are indicated to be the most patriotic with approximately 75% of Union Jack bunting sales coming from southern regions.
Jason Mace, Gala Tent Managing Director commented, "We are definitely benefiting from a rise in patriotism and community spirit with councils and organisations across the country buying multiple structures in order to celebrate the Diamond Jubilee together. We anticipate further increased sales compared with last year due to the London Olympics and Euro 2012 which has resulted in us taking on more staff to keep up with increased productivity".
Labour leader Ed Miliband has accused the coalition of letting British businesses down arguing for a new patriotic economic policy. The party leader indicated that successive administrations had failed to comprehend how significant "pride and patriotism" is to ensure the country's manufacturing sector can prosper, thus creating jobs and growth for the economy, applying for cross party support for a more prominent Made in Britain label on all British products.
However, conservative deputy chairman Michael Fallon criticised Miliband's advances claiming, "It was on Labour's watch that British manufacturing was abandoned and left to shrink to half its size. Labour ran our economy and our manufacturing sector into the ground. This government is working to ensure Britain makes things again."
Gala Tent Ltd is a company that appears to be benefiting from the recent coalition government provided by the recent apprenticeship scheme introduced in February this year to help young people find work and training.
There is no denying that the upcoming events set for the UK this year will have a significant impact on the nation's patriotism, whether it is the unifying of all cultures and religions under the Union Jack or the profound lack of participation and community spirit displayed. Evidence also suggests that businesses will benefit from increased spending created from these tourism opportunities but government expenses created by public services and the continued issues with the Eurozone may hinder any economic growth. Further investigation will need to be considered in the final quarter of 2012 to truly establish the underlining effects of patriotism on British business and manufacturing.