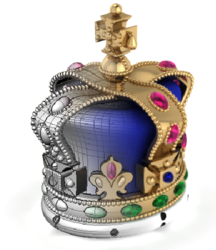 As expected, leading on-line diamond jeweller, DiamondGeezer.com marks the Queen Elizabeth's Diamond Jubilee
(PRWEB UK) 30 May 2012
Beautifully and accurately designed and engineered using the latest CAD-CAM
technology this stunning, 4 cm high Diamond Jubilee commemorative keep-sake is made of solid brass, plated with 18ct. Gold and then hand painted and finished. The 'cap' part of the crown is flocked-sprayed in a regal purple. It is presented in an attractive Velvet Pouch reminiscent of a Maundy money pouch.
The DiamondGeezer.com design team use the latest computer-aided-design programs in their daily creative duties, designing and mastering splendid, high quality diamond jewellery and rings. Creating the master for this presentation crown presented different challenges but the philosophies and disciplines were the same. Initially just one quarter of the crown was designed and created, a partnership of design and computer skill. Hours of tweaking and perfecting later the finished and approved quarter was mirrored twice, left to right, then top to bottom to produce the model as a whole. From there the DiamondGeezer.com rapid prototyping robots took over and carved the initial master from a block of hard modelling wax at actual size.
The process took over 9 hours as the robot mills carved every tiny little detail to an accuracy of 1/10mm to produce the pixel-perfect manufacturing master.
Using the lost-wax process 200 of the crowns were cast. Then it was the turn of 300 year old jewellery manufacturing techniques to be applied by hand as skilled artisans worked the pieces and transformed them from raw castings to the finished piece you see before you.