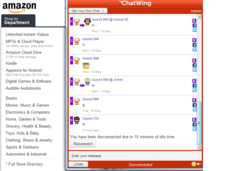 Seattle, WA (PRWEB) May 29, 2012
Amazon, one of the largest online trading sites, banked on a large rate of website exposure and the support of many product reviewers. Internet statistics have noted that most product reviewers were also users of the products featured in Amazon. Lately, a website chat tool has been released to become a hang-out place for Amazon product reviewers. This chat tool is known as Chatwing, and it is gradually making a name in different online communities.
Chatwing has many notable features that have contributed to its overall rank today. One of these features is Facebook integration. Now, Chatwing's users and visitors can choose to log in with their Facebook accounts. This is better than the Guest option because it eases up profile information exchange. Twitter can also be used to log in. With this, visitors can find more followers in the long run. This social media integration is useful for Amazon product reviewers in the sense of communication chatrooms. Now, their reviews will have the potential to reach large groups of people online.
Bloggers have also benefited a lot from Chatwing's latest shoutbox. The recent version is faster and maintains connection for a long time. Users can also reconnect right away whenever they are disconnected. Adding to that, the latest version of Chatwing can hold up to 600 chatters in real-time. Ease of access still remains as one of Chatwing's strong points.
Installing the web chatbox does not take much time away from the user. First, registration must take place. Following that is widget customization. The user will now have the chance to modify the size, color, and title of the widget for better blog synchronization. After that, Chatwing will now generate the HTML code necessary for embedding. The actual embedding takes only a few seconds.
Chatwing is also known for its adaptability. Since it is an all-around chat box tool, it has been used in several online communities and it is also compatible to most blogs and websites.
About Chatwing.com
Chatwing.com has developed live chat software for websites and blogs. It caters to different online communities due to its high rate of connectivity. Everyone can create a customizable live chat feature in 1 minute or less. Users have the ability to customize the size, color, and fonts of the chat product. The ability to chat live via social media accounts such as Facebook and Twitter enable Chatwing to offer a personal and unique real-time experience to all sites. Chatwing is 100% free and very easy to use.