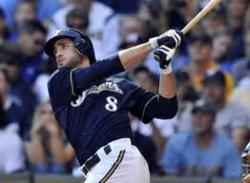 Pittsburgh PA (PRWEB) May 29, 2012
The Brewers this year have been nothing short of disappointing. On May 29th the Brewers sit at 20-28 and 7 games back of the division leading Cincinnati Reds. Their home record is 11-13 and dismal 9-15 away from Miller Park. Contrast this with their record one year ago today 28-24 and a 20 -7 record at home. The difference is staggering to any true Brewers fan. So what happen? It all started this past off-season; Prince Fielder who was arguably the face of the franchise left for Detroit for a "couple dollars" more than the Brewers were willing to pay the big slugger. Give or take 120 Million more. Then the reigning National League Most Valuable Player (MVP) Ryan Braun was found to have a positive test for Human Growth Hormone (HGH). Ryan Braun fought the test and was the first player to ever win his appeal on a technicality. However, the cloud of doubt still following the former MVP. Both these factors contribute to slow start.
Now reports are saying Jonathan Lucroy who was was in the midst of a career year batting .345, 5 Hrs and 30 RBI has broke his hand and will be out 4-6 weeks. If that was not heart breaking enough for Brewer fans it is how he broke his hand. The reason is nearly comical, his wife supposedly was looking for a sock under the bed in a hotel and shifted a suitcase which dropped on his hand. This can not be good for attendance going forward at Miller Park.
The good news for Brewers' fans is their division is consider extremely weak by many experts in Baseball. The Astros and Cubs are by far considered walk overs, the Pirates who are exceeding expectations thus far are still considered whipping boys for the Brewers, with a record of 35-4 record at home against the Pirates. The Brewers pitching is still as good as any teams, lead by Zack Grienke and Shaun Marcum with John Axford slamming the door in the ninth. So while the 2012 Milwaukee Brewers are stumbling out of the gates fans can rest their hats on the season turning around.
At Headline Tickest Now, Brewers tickets are priced the lowest on the secondary market with tickets far below face value and no service fees. As an added incentive please try discount code "brew crew" for an additional 3 percent off.
Headline Tickets Now also has affordable Chicago Cubs tickets and other event tickets throughout the United States and Canada