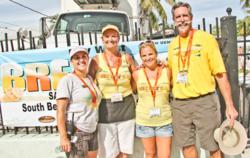 Cause beer makes us smarter.
Key West, Fl (PRWEB) May 31, 2012
The 2012 BrewFest will kick off at 5pm on Thursday, August 30th at The Smokin' Tuna Saloon. This kickoff party is a fundraiser for Key West Sunrise Rotary and will include drink specials, raffles, prizes, and live music. The Porch will have a late night after party starting at 9pm, and is one of many that continue on all weekend long.
Friday, August 31st, the Southernmost Hotel Pineapple Bar at 1319 Duval Street, will host the Florida Beer Company's Pool Party beginning at 1pm with give a-way's, drink specials and much more. Sloppy Joe's Tap room will host a Beer-a-palooza Happy Hour beginning at 5pm heading late into the evening. And, for your eating pleasure, Finnegan's Wake's 2nd annual beer dinner will be held Friday night from 6pm – 10pm.
Saturday, September 1st, head to the tailgate party at JDL's Big Ten Pub for the opening day of college football. Then head to thee signature event, the Brewfest Tasting Festival. The festival will be open from 4pm – 8pm on South Beach Key West adjacent to the Southernmost on the Beach Hotel. There you can taste over 100 different beers on the beach all for $30 per person if purchased in advance, or $40 at the door. And, for those beer enthusiasts there will be a VIP hour from 3pm – 4pm. VIP tickets are limited and can be purchased for $75 in advance. It's a chance for your taste buds to travel the world without leaving the beach.!
On Sunday, venture out to the Casa Marina for Brunch, Brews and live music beginning at 12pm. Or, choose to attend the 3rd annual Samuel Adams Beer Dinner from 6pm – 9pm at the Southernmost Beach Café!
The last day of the festival on Monday, September 3rd will start with with morning breakfast specials at the Southernmost Beach Café, and end with Bingo at the Green Parrot.
For more information and a full list of events on Key West BrewFest and ticket sales, please call 305-295-6519 or visit us on the web at http://www.keywestbrewfest.com . You can also check out the festival and events that are happening on Facebook, http://www.facebook.com/keywestbrewfest. Hotels in Key West and vacation planning information can be found at http://www.southernmostresorts.com .