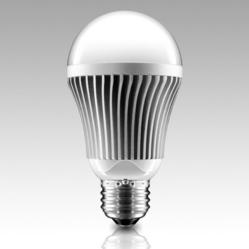 "These new LED light bulbs are perfect for the home. They are affordable and much more efficient than incandescent bulbs and even CFL bulbs," says Liz Newman.
Houston, TX (PRWEB) May 29, 2012
One Stop Green now offers a line of affordable LED lighting products for the home. Combining simplistic elegance with the latest in LED technology, these bulbs provide energy savings with easy installation. Free from UV and IR radiation and cool to touch, even your kids will smile.
The LED light bulbs produced by Aluratek are some of the most inexpensive LED light bulbs available on the market. A 6W LED light is designed to replace a 40W incandescent bulb and an 8W LED is designed to replace a 60W incandescent bulb, resulting in an 85% reduction in energy use compared to standard household lighting. In addition, LED lighting does not contain dangerous mercury like energy efficient CFLs so now you have no excuses to switch.
The LED lighting has an estimated service life of 50,000 hours, meaning you won't have to change a bulb for over 10 years when used about 12 hours per day. These LED lights can also save $30-40 annually over incandescent light bulbs, meaning each bulb pays for itself in less than one year. That's up to $500 in savings over a 10 year period with just one light bulb. Make the smart choice and switch to LED's to save on both money and energy.
One Stop Green, LLC facilitates environmentally friendly improvements to residential and commercial properties through distribution of green, energy efficient products and services. They offer every product needed for sustainable energy independence enabling homeowners, businesses and commercial property owners to master their usage by reducing waste and implementing efficient energy consumption methods. Their goal is to provide user friendly and practical long-term solutions to existing inefficiencies and their carefully selected products and professional installers offer a higher level of satisfaction and service for their customers.
Contact:
Nathan Kaufman
http://www.OneStopGreen.com
P: 877.449.9110|O: 713.541.2739|C: 210.846.5900
###