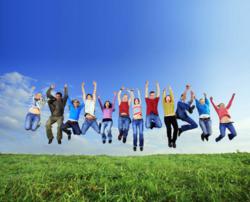 If you gave an employee 20 pence for a job well done you probably run the risk of getting it thrown back in your face
London, UK (PRWEB UK) 30 May 2012
Contact centre employee motivation experts, Motiv8 Solutions, have until now used gamification as their primary reward mechanic. "Monetisation of reward has always been part of our strategy," said Dan Gray, Motiv8 Finance & Legal Director. "But we use gamification specifically to recognise, reward and motivate employees to do what many employers refer to as their day job. With "Wheel of Fortune" (WoF) we can use very small sums of money, sometimes as low as £0.10 to reward employees when the employee has created genuine incremental value for the business"
With contact centres worldwide looking for every angle to improve performance and with many of the big technology wins already banked, the focus is increasingly on improving performance of the operator of these systems; the agent. In real terms the opportunity for improvement through better employee motivation is enormous. Employee motivation is the critical variable in improving human performance, but few if any firms even bother to measure the levels of employee motivation.
"We see many employers who use cash-based mechanics unwisely and end up paying employees extra to do what would be regarded as their day job. This is both expensive and ineffective and creates a dangerous precedent that can create an undesirable mercenary culture in a contact centre," said Gray.
The "Wheel of Fortune" (WoF) concept from Motiv8 enables employers to target only those activities that genuinely drive incremental value into the enterprise and provides for a fast, fun and engaging mechanism to share some of the value with the employee. Using Gamification in parallel to recognise and reward employees for performing their "business as usual" tasks well and above the required minimum standards, ensures that employers can afford to lavish praise (free of charge game time) on employees who perform standard tasks well and only pay for what really creates additional value.
"WoF" enables an employer to reward employees with tokens every time they do something that adds value to the company. The employee can then use that token which has no monetary value, to invest in a spin of the wheel. The wheel has win and non-win slots and the wins vary in size from £0.10 to say £50 with the odds carefully controlled to avoid paying too much.
"For example, if you presented one of your employees £0.20 for raising a lead for a new product I strongly suspect that regardless of where you work, you have a strong chance that the employee may react badly and see the amount as derisory and thus have the opposite of the desired affect. But by using WoF regularly throughout a working week an employee has the chance to win much more and can accumulate reasonable value over time. In this way very small amounts of money have a disproportionately positive impact," said Gray.
Since a recent piece of systems integration (April 2012), Motiv8 uses the innovative Red Letter Days, Lifestyle platform as the redemption mechanism. This means that an employee can use WoF to build a positive account balance in their personal Lifestyle account. The balance can be used in full, in part or as part of a larger purchase. Lifestyle has the most flexible and extensive range of entertainment and leisure treats, available for use with a single voucher and provides employees online access to some of the biggest home entertainment, fashion and beauty brands. Some of their great offerings include: ideas for holidays, staying in/going out; tickets to famous attractions, sporting events and much more.
"We believe that by using WoF we can guarantee a Return on Investment for any client, in a way most traditional reward and recognition schemes would find difficult if not impossible. This is really ground breaking stuff," said Gray, "For the first time an employer can reward frequently with really low cash values, get fantastic levels of employee motivation and thus great results and do so knowing unequivocally that for every £1 paid to an employee the enterprise will have banked a multiple many times greater."
-ENDS-
Notes to Editors:
Motiv8 Solutions
Motiv8 Solutions are experts in the field of employee motivation. Our unique, cloud-based Motiv8 V2 Pro Solution, aimed at call centre environments worldwide, improves the motivation, competency and inclusion of employees, resulting in greater engagement, capability and commitment. The outcome of this is more sales, lower costs and a leap in employee and customer satisfaction.
Motiv8 Solutions' low-cost application enables corporations to easily, instantly and consistently recognise and reward great performance from their contact centre employees. In addition Motiv8 provides a unique, unthreatening and on–the-job method of assessing employee competency and knowledge, and subsequently addressing any knowledge gaps, in a way that is hugely popular with employees and employers.
Motiv8 V2Pro is readily deployed, intuitive, low cost and completely unique. For some examples of how Motiv8 has been put to use for considerable economic benefit visit http://www.motiv8solutions.com/casestudies.html
Notes to Editors:
Red Letter Days
Established in 1989, Red Letter Days pioneered the concept of giving experiences as gifts.
In June 2011 the company launched a first of its kind Lifestyle voucher for the B2B market. Broader than any current high street voucher, this is the only voucher in the market to offer thousands of lifestyle and leisure treats online, including holidays, tickets to concerts and festivals, nights out at great restaurants, nights in with music, films and gadgets as well as top fashion and beauty brands and more.
For more information visit: http://www.redletterdaysb2b.co.uk
Contact (Red Letter Days B2B):
Courtney Glymph, Senior Communications Executive
020 8442 2013 / Courtney.glymph(at)redletterdays(dot)co(dot)uk