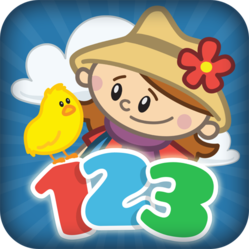 "one of the best number-teaching games we've yet seen for kids." - Jeremy Horwitz, Editor-in-Chief, iLounge.
Dublin, Ireland (PRWEB) May 31, 2012
StoryToys, a leading publisher of interactive books and games for children is delighted to announce that Farm 123 is now available on the App Store for iPad®, iPhone® and iPod touch®. From the creators of the million selling Grimm's series of 3D interactive pop-up books, Farm 123 is the first in a series of StoryToys jr. apps professionally designed with toddlers and pre-schoolers in mind.
Kids will love learning to count as they help Farmer Jo around the farm in this magical pop-up book and game. They'll have hours of fun playing with cheeky farm animals: chasing them, putting them in the pen, and giving them a good wash!
Farm 123 pays special attention to learning reinforcement through the introduction of gently progressive games that help children cement their grasp of the numbers 1 - 10 and the core concept of sorting. Farm 123 also features a brand new 3D board book engine that presents a stunning simulation of a board book with realistic physics and behavior.
Farm 123 was recently described as "one of the best number-teaching games we've yet seen for kids" by Jeremy Horwitz, Editor-in-Chief of the influential iLounge.com website, which included it in their 2012 iPad Buyers Guide list of Top 100 Apps.
Farm 123 is priced at $1.99 for the fully featured app, which features a full book experience and seven counting games. A free version is also available, which can be easily upgraded to the full experience.
Other Features:

Just like a real book, children can turn the pages and view pop-up scenes from different angles.
Wonderfully illustrated, with beautiful imagery, a charming music score and sound effects.
Children win stars as they progress through the games.
Professionally narrated in English, French, German and Spanish.
The free version features the full book experience plus two fun counting games absolutely free, forever - 5 additional games can be unlocked with a single, one time low-cost purchase.
Farm 123 makes learning to count a magical experience. Kids will learn the numbers 1 to 10 in a series of dazzling, fully-interactive scenes as a cow jumps over the moon, pigs make a muddy splash, and eggs hatch in spectacular fashion.
Find out more: http://storytoys.com/farm-123?prweb
Paid Version App Store link: http://itunes.apple.com/app/id526322778?mt=8
Free Version App Store link: http://itunes.apple.com/app/id508002368?mt=8
YouTube link: http://www.youtu.be/ChBMaQzDz3k
For further details, review codes, screenshots or info please contact info@storytoys.com
Headquartered in Dublin, Ireland, StoryToys creates and publishes highly innovative and entertaining software for children including interactive books and games. StoryToys is a trademark and trading name of Ideal Binary, Ltd. Apple, iPad, iPhone and iPod touch are trademarks of Apple Inc., registered in the U.S. and other countries.