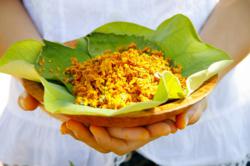 we want guests who share our values of kindness, caring for the environment, and interest in experiencing an authentic way of life
Chanthaburi, Thailand (PRWEB) May 30, 2012
Only three hours' drive from Bangkok and two and a half hours' drive from Suvarnabhumi International Airport, the spa resort provides a perfect retreat for stressed out urban executives looking to relax amidst the serenity of nature.
The owners of Faasai Resort and Spa are a Thai-New Zealand couple, Surin Laopha and Bronwen Evans. Surin is a former Thai massage therapist with 14 years of experience at the world renowned Wat Po school of Thai massage has studied Thai healing medicine while Bronwen is a former journalist from Radio New Zealand. Freshly gathered herbs from the resort's own organic gardens are used in the spa and in the restaurant, while abundant fresh tropical fruit from local orchards is included in the breakfast, especially during the fruit season in May and June.
Bronwen says the natural surroundings at the resort provide an ideal place to relax and unwind while the spa experience includes the healing power of nature.
"Our aim is to create a place of harmony, grace and natural beauty which recognizes the importance of every aspect of our operations – nature, the community, the well-being and health of our guests and staff and respect for the spiritual and cultural values of the Thai people."
The tranquility of the spa extends to the whole experience of staying at the resort and the auspicious local place names, Bronwen says.
"The local village is called Kung Wiman, which means Heaven on Earth, while the district is called Sanamchai or Field of Victory. We chose Faasai as our name as it means clear skies or pure heavens. Our resort faces east so we receive the healing rays of the early morning sun and have spectacular moon rises. We also have lovely views of distant hill and mountains, fresh sea breezes, scents from the forest and natural mineral springs."
The special package deal costs 4080 baht for three nights in a bungalow (approximately US $136) or 4560 for three nights in a villa room (approximately US $152). The package includes:

Daily Breakfast for 2 persons
Complimentary Ecotopia package for 2 persons (Thai massage or trip to mangroves at the Royal Marine Sanctuary Kung Kraben)
Additional Adult/Child will be charged at THB 200 per night.
The spa prices are very affordable and Bronwen says guests can easily afford spa treatments every day if they have a longer stay and can restore their health and well-being by eating fresh healthy food, resting and enjoying the tranquil and friendly rural environment.
"We offer the same kind of services that up-market exclusive health retreats offer but rather than using price as the criteria of entry, we target guests who share our values of kindness, caring for the environment, and interest in experiencing an authentic way of life."
About Faasai Resort and Spa
Faasai Resort and Spa is a 14 room eco-resort at Kung Wiman, Chanthaburi, Thailand about 200 kilometres southeast of Bangkok. The resort is nestled into a forest covered hill amidst tropical gardens. It overlooks the mangrove-fringed Kung Kraben Bay and is a ten minute walk from Kung Wiman beach. http://www.faasai.com.
Awards won by Faasai Resort and Spa
Best Small Hotel Thailand Green Awards 2011
Green award and special award for cultivation and use of herbs and spices from the Governor of Chanthaburi 2011
Outstanding service to the environment and nature in the Eastern region – Thailand Boutique Awards 2010
Best Small Hotel Thailand Green Awards 2009.
Runner-up in the budget category in the 2008 Wild Asia Responsible Tourism Awards.