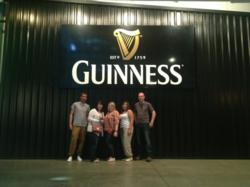 "Dandy's Topsoil is an extremely customer focused business and we know that happy customers start with a happy team, dedicated to providing the best customer service and finest quality products on the market"
Adam Dandy, MD, Dandy's Topsoil
(PRWEB UK) 29 May 2012
Team members at Dandy's Topsoil of Deeside, Flintshire, were treated to a day out in Dublin last Friday, 25th May when they were whisked off to Dublin to see the sights, tour the Guinness factory and get down to business with a brainstorming workshop designed to really get their creative juices flowing.
"Dandy's Topsoil is an extremely customer focused business", said Adam Dandy, Managing Director of the company, "and we know that happy customers start with a happy team, dedicated to providing the best customer service and finest quality products on the market".
The first 'Dandy's Topsoil Team Building Day' saw a group of employees head to Manchester. The morning's team building activity was a session of indoor sky diving which saw the group having to work on boosting their own individual confidence levels before taking the dive, and also saw their motivation and encouragement skills working overtime whilst cheering on their fellow divers. Katie Whitfield, Commercial Manager said, "It was great fun and really helped get us motivated to work together as a team. Because Dandy's is made up of people with so many different skill sets it was a real boost to have members from each department, who wouldn't usually cross paths on a busy work day, socialising and working together as one team for the day".
The afternoon saw the group head off to a conference centre in Manchester with a modern, funky vibe, relaxed atmosphere and 5 star lunch menu. After spending the day throwing ideas around, the team left rested and ready to launch five new products and services, some of which have taken the lead as best sellers within the company's vast product range. The group were also able to bond more as a collective and with someone from each department representing there was a real mix of personalities, ideas and expertise.
The latest Team Day saw a group made up of sales assistants, representatives from the accounts department, production workers from the topsoil yard and HGV drivers hit the streets of Dublin. After a short ferry ride, the morning's activities saw them heading off to the Guinness factory for a tour and a pint or two of the black stuff.
Cut to the afternoon and the team got down to business throwing ideas and new concepts around before heading over to the Hard Rock Café for an evening meal and some more brain-storming. They came away Saturday morning with a substantial final list of thirty seven notions for new products, ranges, services and general improvements to various departments of the business.
After presenting to the rest of Dandy's Topsoil on Monday morning, the various ideas will be whittled down and doled out amongst the team ready for development. The first team building day saw the launch of Summermix™ and Wintermix™ compost blends, both of which have proved very successful in a short space of time so the second team have a lot to live up to ideas wise.
The next Dandy's Topsoil Team Building Day is expected to take place in August at an as yet undisclosed destination!
About Dandy's Topsoil:
Dandy's has been a family owned and run business since 1826. They are an award winning producer of quality top soil and compost blends and were the first in their industry to begin selling topsoil and gardening products online.
The company's website http://www.DandysTopsoil.co.uk and overall levels of customer service and quality of products have received over 270 positive reviews on independent website ReviewCentre.com from some of their past customers and has been singled out on the website as the leader in their "Top 5 Garden Centres" poll.
Dandy's are pioneers in the topsoil and landscaping supplies market and launch new products each season; their best-selling Bordermix®, Lawnmix® and Vegegrow® top soils remain market leading blends despite much imitation from competitors. The company also led the way in the winters of 2009/2010 with their alternative to traditional rock salt; UltraGrip De-Icing Grit.
Dandy's can be found in Deeside, Flintshire and online at http://www.DandysTopsoil.co.uk.