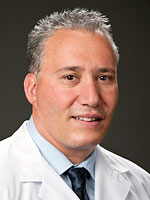 In spite of being one of the busiest surgeons at AMH, Dr. Bonanni has taken the time to teach, communicate and ensure that everyone is 'on the same page' in terms of patient safety.
- John J. Kelly, M.D., chief of staff and chief patient safety officer
ABINGTON, PA (PRWEB) May 30, 2012
Fernando B. Bonanni, Jr., M.D., director, Institute for Metabolic and Bariatric Surgery, was recently honored with the 2012 Catherine P. Zakrzewski Patient Safety Award. The award – Abington Memorial Hospital's most prestigious patient safety recognition – is given to individuals who have broadly impacted the organization's patient safety culture.
Since his arrival at Abington Memorial Hospital(AMH), Bonanni has embodied a culture of patient safety. Beginning with the Failure Mode and Effects Analysis (FMEA) process that introduced a safe, patient-centered bariatric surgery program at AMH, Bonanni adopted and adhered to safe practices and behaviors in order to promote excellence.
"In spite of being one of the busiest surgeons at AMH, Dr. Bonanni has taken the time to teach, communicate and ensure that everyone in IMBS is 'on the same page' in terms of patient safety," said John J. Kelly, M.D., chief of staff and chief patient safety officer, Abington Memorial Hospital. "He truly personifies the culture that it's about the patient, not about us."
Several years ago, Bonanni became a Patient Safety Officer at the Institute for Healthcare Improvement (IHI) and willingly led and modeled the use of the World Health Organization (WHO) Surgical Checklist to ensure a safe perioperative experience. He ensures that all staff feel comfortable raising a concern, since he recognizes the value of all team members and works collaboratively with all who care for his patients. He voluntarily provided time and support for the American College of Surgeons National Surgical Quality Improvement Program (ACS NSQIP) Consortium site visit in December 2011, and proudly displayed the excellence in bariatric surgery outcomes.
Bonanni is proud of AMH and his team and has earned the recognition of external organizations with the Surgical Review Corporation (SRC) Centers of Excellence and other similar excellence certifications.
"Every day, he walks the perioperative experience from office, to pre-op to the OR, PACU and to the floor with a smile, an open mind, a willingness to handle even the most basic question," continued Kelly. "His patients know he is there for each of them. He is at the hospital at all hours or calling in to chat with staff to ensure that his patients' needs are met. He welcomes being called, as no problem is too small."
Bonanni has dedicated his time to advance the culture of patient safety in new ways by volunteering recently to become a Patient Safety First physician trainer, educating physicians regarding their unique role in establishing an environment that promotes the reduction of error and harm.
About Abington Memorial Hospital
Abington Memorial Hospital is a 665-bed, acute care teaching hospital with a medical staff of more than 1,100 physicians and more than 5,600 employees. These professionals provide medical care and health services to residents of Bucks, Montgomery and Philadelphia counties.
A regional provider, Abington Memorial Hospital has the only Level II accredited trauma center in Montgomery County and offers highly specialized services in bariatrics, cardiac care, cancer care, neurosciences, orthopaedics and maternal/child health.