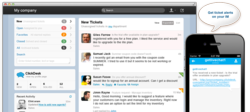 Multi-channel customer engagement platform for Startups and Entrepreneurs
Sunnyvale, CA (PRWEB) May 30, 2012
ClickDesk, the fastest growing live chat provider in the market, today announced the launch of a help desk service, a new capability for businesses looking to more efficiently manage support e-mails and offline chats.
The new help desk service was designed by listening to the needs of ClickDesk's 20,000+ customers who are not interested in a full-blown help desk, but still want to take advantage of useful features such as live chat, built-in phone and a social media toolbar.
Basic features of the new help desk service include:

Agents can view, respond, and transfer tickets through an intuitive control panel.
Seamless integration with live chat - view, update and create tickets directly from Skype and GTalk
Cloud service – no installation required.
Engaging customers on the move - Mobile and Tablet compatible.
The new help desk service will work seamlessly with live chat, providing users with true multi-channel environment.
"Our aim has always been to offer a multi-channel customer engagement platform to cater to Startups and Entrepreneurs. The addition of a help desk is another step in that direction. ClickDesk will continue to incorporate more communication channels into the system while staying light and affordable," says Manohar Chapalamadugu, CEO of ClickDesk.
Since its inception just 11 months ago, ClickDesk has attracted over 20,000 customers who are looking to engage their web visitors in a seamless manner. The company continues to grow rapidly with over 30 million chat impressions per month.
ClickDesk offers a free plan for startups and entrepreneurs while paid plans start at $9.99. To learn more, please visit http://www.clickdesk.com