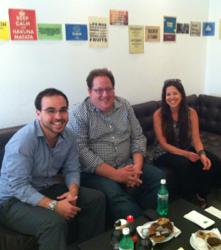 (PRWEB) May 31, 2012
Successful American Internet entrepreneur and digital pioneer Jeff Pulver this week visited IzzoNet, the leading ecommerce solutions company, to discuss the future of the company and the direction of online commerce in the coming years.
Pulver, who praised the founders of the company for their successes so far and suggested that more growth can be expected in the future, remarked on the constant developments and improvements at IzzoNet, praising the team for their unceasing dedication to excellence and their ability to constantly add new tools and features to their already impressive arsenal.
The IzzoNet team's blushing faces reached even redder shades when Pulver stated that with IzzoNet's experienced team and unique and technologically advanced features, it is certain that the company has plenty to offer to its current and future clients and is surely destined for success.
Pulver was an early partner in Vonage, now one of the largest VoIP providers in the world. His foresight and unique insight have built him a reputation as a prescient investor in Internet startups, and a personal visit is seen in the industry as a public vote of confidence. In the world of online commerce, Pulver is seen as something of a king maker, and investors pay close attention to his movements.
Pulver's recent meeting with the IzzoNet team covered a wide range of subjects, most importantly a discussion about the future of Internet and social commerce and the roll IzzoNet expects to play in its further development.
At first the discussion over social commerce brought a doubtful reaction from Pulver. Yet, as the discussion prolonged, supporting facts and theories changed Pulver's initial feeling. Eventually, not only the idea seemed as beneficial and productive, it also got Pulver interested and curious as for the results of such an endeavor.
Said Pulver, "I am happy to note that IzzoNet is constantly developing new applications and tools related to sales management, marketing, distribution, advertising, design, vendors, security and social networks. Its intention of wanting clients to earn maximum income with minimum effort and investment is the key issue that makes IzzoNet such an excellent company."
Pulver's attention seems well deserved. Since its founding, IzzoNet has emerged as one of the leading ecommerce solutions in the region, competing with powerful competitors such as Magento. IzzoNet's innovative strategies and unique 'all in one' approach to ecommerce has seen the company make great gains, attracting clients who find the simplicity and comprehensiveness of IzzoNet's service appealing.
IzzoNet bills itself as the #1 online store software provider, but the reality is much, much greater. IzzoNet provides not only the tools and features to build world class ecommerce stores, but also offers an integrated hosting service that brings all of those tools together into a coherent whole, simplifying the process of building, operating and maintaining an ecommerce site.
The founders of IzzoNet use their knowledge and experience of Internet commerce to build ever more useful and user friendly tools in an effort to allow vendors to focus on selling. They believe that vendors should be enabled to do what they do best, and not be bound by the need to painstakingly build an online store using a bevy of disparate tools.
During his visit Jeff Pulver remarked on IzzoNet's innovative approach of focusing on the vendors' best interest, arguing that IzzoNet's user friendly interface will be the key factor in overcoming the better established and more powerful competition.
After a number of years of experience in the ecommerce system, it seems that IzzoNet's organization is actually giving the highest importance to an all-in-one ecommerce solution. Magento's obligation to deliver the necessities of an enormous assortment of businesses has made them the best in the field.