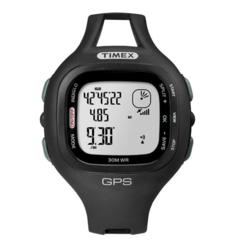 One thing is for certain and that is that this watch should become a popular pacing tool for those that could not afford $200-plus GPS watches
Bozeman, MT (PRWEB) May 30, 2012
The testers at the Heart Rate Watch Company blog recently evaluated the new Timex Marathon, the first sub-$100 GPS watch from Timex. This watch is ideally suited to runners, walkers, hikers and Nordic walkers who want real-time distance and pacing data; it is not a heart rate monitor.
"We think this watch will be of real interest to walkers and hikers so we tested it on a hike up a mountain Canyon and compared the data to that of a Garmin 610" says Rusty Squire, President of the Heart Rate Watch Company. He adds, "On a 3 mile hike up a steep mountain trail the two watches were only .04 apart, which amounts to about 200 feet, which is nothing."
The Timex Marathon was released in April and comes in both a men's and women's style. For individuals that strictly want distance, pacing and calorie data it is a good tool at a very affordable price point and it is far more accurate then pedometers that depend upon an average stride length because average stride length varies on steeper trails.
"This would be a great tool for high school age runners and athletes who need affordable pacing data" says Squire. He continues, "It is also a good tool for early morning walkers, joggers, Nordic walkers or as a tool to take on a family hike."
While serious runners who want heart rate data might be more likely to buy the Timex Run
Trainer there are a number of people that just want pacing data or don't like wearing a chest strap.
The Timex Marathon uses a lithium-ion rechargeable battery that lasts between 7 and 8 hours in GPS mode per charge. When it is out of GPS mode it can be used as a regular watch and will last for days. It also has a 10 second Indiglo back light installed which is great for low light situations to see your data in the early morning or evening hours.
"One thing is for certain and that is that this watch should become a popular pacing tool for those that could not afford $200-plus GPS watches", states Squire.
If you would like to read the complete Timex Marathon blog review just visit the Heart Rate Watch Company blog.