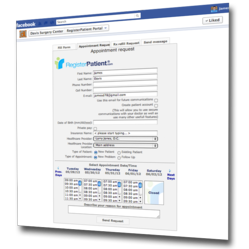 With more and more patients using Facebook to find and research doctors, a secure Facebook app that allows them to communicate with a doctor seemed like a natural fit.
Gainesville, FL (PRWEB) May 31, 2012
RegisterPatient.com launched its new, first-of-its-kind, secure patient portal Facebook app on Monday. RegisterPatient's partner physicians can use the new app to quickly and easily add a secure patient portal to their Facebook page. Patients using Facebook can visit the medical practice's fan page, access the secure, HIPAA-compliant registration portal and request appointments, complete their registration forms in advance, request prescription refills and send secure messages to their doctor, all without ever leaving the provider's Facebook page.
"With more and more patients using Facebook to find and research doctors, a secure Facebook app that allows them to interact with doctors seemed like a natural fit," said 20-year veteran nurse and founder of RegisterPatient.com, David Williams. Williams believes the app is simply the next logical step in RegisterPatient's quest to reduce practice costs and simplify patient registration.
For medical practices without websites, the RegisterPatient Facebook app gives them a powerful online patient portal without the financial burden of maintaining an expensive website with similar functionality.
"We were continuously running into practices without a website to install our patient portal on," said Williams. "This new app allows us to quickly create a secure patient portal for a practice without them having to spend thousands of dollars on a website."
The RegisterPatient app is designed to accommodate a wide variety of practices, from solo doctors with a single location to large multi-location physician groups and hospitals. Installing the app also allows providers to take advantage of Facebook's powerful advertising features to target potential new patients and drive them to the "new appointment request" feature on their fan page.
Details on the Register Patient Facebook App for Physicians
Cost: Free feature included as part of RegisterPatient system
Functionality Specifics:
Application can be installed on provider's Facebook page creating a HIPAA compliant secure patient portal with the following functions:
● Secure online patient registration
● Appointment Requests with real time appointment availability
● Prescription refill requests
● Secure patient to provider messaging
The application links directly to the provider's RegisterPatient.com account and duplicates the same secure patient portal that can be installed on the provider's website. Providers initiate usage of the Facebook application from within the RegisterPatient admin area and can complete the setup in just a few minutes.