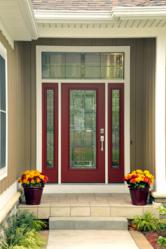 Having the Tru-Defense® door system on a home is a homeowner's best defense against the worst that Mother Nature can throw at a house.
- Derek Fielding
Senior Product Manager
Therma-Tru LLC
Maumee, OH (PRWEB) May 30, 2012
The big bad wolf of all storms could "huff and puff" at a Therma-Tru® Tru-Defense® entryway system and it still wouldn't blow the door down! As homeowners across America prepare for the 2012 Hurricane Season, industry experts remind them that the entry door is one of the most vulnerable aspects of the home.
"The roof, windows, garage door and entry doors to the home are considered the primary susceptible areas when severe weather strikes," says Tom Kraeutler, home improvement expert and host of The Money Pit radio show. "If one of these key structural products is penetrated during a storm, then the entire home is at risk for catastrophic wind, debris and water damage."
To help protect homes in areas prone to severe weather, Kraeutler recommends the Tru-Defense fiberglass door system with Impact-rated glass. "This system is engineered to work together and meets building codes across the country, including in severe weather zones," says Kraeutler. "The energy-efficient door construction can help keep out the damaging effects of wind and rain on both entry doors and patio doors, bringing security and peace-of-mind to homeowners."
Therma-Tru offers Impact-rated glass options for its fiberglass and steel entry and patio doors, which meet wind-borne debris region requirements throughout most of Florida. For the stricter High Velocity Hurricane Zone (HVHZ) requirements in Miami-Dade and Broward Counties (and for homeowners desiring the ultimate in a secure door) Therma-Tru also offers a line of Impact-rated fiberglass and steel doors that are tested to withstand severe weather conditions.
The Impact-rated fiberglass doors are designed with a steel plate inside to help withstand hurricane force winds and debris, and are approved for HVHZ. These opaque Impact doors have a structural performance of up to Design Pressure (DP) 100, which is equivalent to 242 mph winds (which are in excess of Category 5 hurricane conditions). Additional options include using Impact-rated glass with an impact-rated door or a selection of Impact-rated sidelites with an Impact-rated door to qualify for HVHZ approvals.
Tru-Defense Components
The Tru-Defense door system includes a package of precision-engineered components. When combined into one entryway system, these important pieces deliver long-lasting durability that can stand up to severe weather conditions.
The composite adjustable sill of the Tru-Defense door system allows for a weather-resistant seal with the door bottom to help prevent moisture damage. The stainless-steel tongue construction and three-point locking structure on the multi-point locking system provide exceptional stability and security. And, the heavy duty ball-bearing hinges provide support, stability and smoother, longer-lasting performance.
On inswing Tru-Defense door systems, moisture and air infiltration are greatly reduced by the dual-bulb bottom sweep design that works with the weatherstrip and the 7-shape corner seal pad. The foam-filled compression weatherstrip remains flexible and helps seal against air and water.
"The Tru-Defense door system maximizes the seal between the door and the frame to keep out the damaging effects of wind and rain while increasing the energy efficiency of the unit," says Derek Fielding, senior product manager with Therma-Tru Corp. "We're so confident that this door can offer safety, security and peace-of-mind to homeowners that we back it up with a special warranty rider of up to $2,000.
"If there is a system failure, any Therma-Tru fiberglass entry door installed with all the specified Tru-Defense components will result in a cash reimbursement that may be used toward product or component replacement, secondary damage to flooring and trim, and the labor to make repairs if water infiltration occurs as the result of component failure caused by manufacturing defects in the door system.*"
Coastal area homeowners have reason to pay special attention this year to the entry doors on their homes. Leaders at the Colorado State University (CSU) Tropical Meteorology Project, which have been making annual predictions for 29 years on upcoming hurricane seasons, have called for 10 named storms during the hurricane season, which runs from June 1 through November 30. Four of those storms are expected to become hurricanes and two of those major hurricanes (rating a Saffir/Simpson category of 3-4-5) with sustained winds of 111 mph or greater.
"Having the Tru-Defense door system on a home is a homeowner's best defense against the worst that Mother Nature can throw at a house," says Fielding. "When combined with other Impact-rated products on the home's exterior, the Tru-Defense door system can truly help protect the home from severe damage."
Celebrating its 50th anniversary in 2012, Therma-Tru is known as the company that engineers its products for high performance as an entire entryway system. During its impressive history, Therma-Tru pioneered the fiberglass entryway system in 1983 with key features such as increased energy efficiency and eye-catching curb appeal elements. In 2007, Therma-Tru launched the Tru-Defense® Door System for entry and patio doors, providing builders and remodelers with advanced engineering to help withstand damaging weather and harsh conditions.
###
About Therma-Tru
Therma-Tru is the nation's leading manufacturer and most preferred brand of entryway doors. Founded in 1962, Therma-Tru pioneered the fiberglass entry door industry, and today offers a complete portfolio of entry and patio door system solutions, including decorative glass doorlites, sidelites and transoms, and door components. The company also offers low-maintenance Fypon urethane and PVC products. Headquartered in Maumee, Ohio, Therma-Tru is part of Fortune Brands Home & Security (NYSE: FBHS). For more information, visit http://www.thermatru.com, http://www.fypon.com or call (800) 537-8827.
*Failure of a door system with multi-point lock and NAMI-Certified Assembly with a Therma-Tru sill pan would result in the maximum reimbursement of $2,000. See http://www.thermatru.com/trudefense for complete details on the rider related to the Tru-Defense Door System. The rider does not warrant workmanship of the builder, remodeler, dealer, distributor or other person that assembles or installs the Tru-Defense door system, nor any damages caused by improper handling, assembly or installation.
ENERGY STAR is a government program that helps consumers protect the environment through superior energy efficiency and is a registered trademark of the U.S. Department of Energy and the U.S. Environmental Protection Agency.
Images at: http://thermatru.com/news-events/media-resources/entry-door-images/