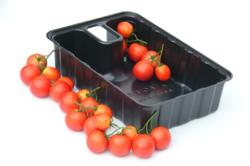 Huge tomatoes loaded with sugar and acidity and delivering that rare and special delicious home-grown flavor can be easily grown by amateur home gardeners, provided some key gardening steps are done correctly
Knoxville, TN (PRWEB) May 31, 2012
Mater-moat is a brand new way to keep tomato plants better watered and fed even if they're small or up to six foot high large. The Mater-Moat system can be added to existing tomato plants easily - as well as used when planting new. Best of all watering can be done just once a week in about ten minutes.
Huge tomatoes loaded with sugar and acidity and delivering that rare and special delicious home-grown flavor can be easily grown by amateur home gardeners, provided some key gardening steps are done correctly. A dynamic new tomato planter approach, trademarked Mater-Moat™ because of its huge plant surrounding water and dissolved nutrients storage offers home gardeners super easy and quick solutions to nearly all tomato growing problems.
Growing and eating huge tomatoes loaded with sugar and acidity that deliver that rare and special delicious home-grown flavor is a fun part of a home garden. This dynamic new tomato planter watering/feeding approach being introduced this week was trademarked Mater-moat™ because of its huge water and dissolved nutrients storage and delivering system.
According to the manufacturer, Ideology Inc., of Knoxville, Tennessee, Matermoat offers home gardeners super easy and quick solutions to nearly all tomato growing problems. Here's how it works:
· Matermoat plants tomato plants in the ground where the plant can use already-existing in-ground nutrients and water in addition to receiving regular watering/feeding from you, the gardener. Tomatoes plants require at least 8 hours of sun plus lots of water and nutrients every single day.
·Home tomato gardeners usually cannot find the time to adequately water and feed their tomatoes. A mature tomato plant demands more than a gallon of water every single day. Mater-moat holds a huge 3 ½ + gallons of water so for most of the life of a tomato plant it only needs refilling just once a week.
· Professional tomato growers furnish nutrients with every single drop of water given to their tomato plants. Mater-moat does the same exact thing by using water soluble tomato fertilizer.
·A tomato plant is one of the few plants with the ability to develop huge roots all along all any part of its stem that is planted completely under the ground. The Mater-Moat tomato growing system allows tomato plants to grow a giant root system just this way.
· Mater-Moat 's size (18 ½" long X 13 ½" wide X 5 ½" high) provides a large ground cover around the tomato plant that prevents evaporation of water furnished to the plant. This creates a water pocket underneath the plant that cannot be lost to run-off. The nutrient-laden multi-gallons of water are thus saved and allowed to simply migrate downward. Tomato roots will chase this stored water and nutrients, even down to depths of several feet. This creates a bigger root system for your plant.
· Watering a tomato plant normally involves using a large bucket or water hose. This, unfortunately, can wet the plant's leaves and stems, often causing unwanted fungus and disease. Also, up to 85% of the water simply "runs off" from the plant, watering surrounding weeds. Mater-Moat eliminates all this run-off, slowly feeding 100% of its nutrient-laden water to the plant roots.
·Mater-Moats large size helps gardeners planting multiple tomato plants get more even spacing between plants. This will help avoid excessive shading of all the plants.
·This versatile new planter can be used to grow a huge variety of vegetables, including cucumbers, zucchini, squash, eggplant, peppers (all kinds), broccoli and others.
Mater-Moat can be added to tomato plants at any time - even after they are planted and growing.
Invented by Bill Felknor,Inventor of the Topsy Turvy Upside Down Tomato Planter.