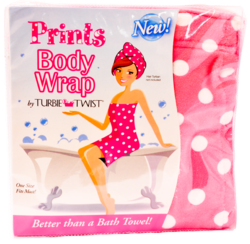 Eight Turbie Twists can be used for every 1 bath towel, think of all the quarters saved by using Turbie Twists
Butler, PA (PRWEB) May 30, 2012
Going away to college is an exciting time for young adults but it is also a very stressful time. The stress of packing, leaving home while living with a roommate, and adjusting to college level classes can all be overwhelming for these eager undergrads. The one big stressor that may have students freaking out over is adjusting to communal bathrooms.
When living at home one may share a bathroom with family members, but while living at college that completely changes, because now the bathroom has to be shared with complete strangers who may or may not have the same hygiene habits. It can be an extremely difficult adjustment for students.
Below is a list of the top 5 essentials to adjusting to the college communal bathroom lifestyle:
1. Shower Caddy: A shower caddy is crucial in dorm life, carrying shampoo, conditioner, body wash, washcloths, a razor, shaving cream; whatever it may be, for the bathroom can all be carried conveniently in a shower caddy. Make sure however, that this caddy has holes in it! A shower caddy without holes fills up with water and makes it much harder for toiletries to dry and stay clean. Make sure also the shower caddy is stored on a towel or a specific place when returning to the dorm room so nothing gets wet!
2. Turbie Twist: Wrapping hair in a bath towel is not only heavy and hard to keep on your head but it is also a waste of a bath towel! Doing laundry in college can get very expensive not to mention time consuming, so using a Turbie Twist can reduce the extra towel use. They are also reusable and light weight unlike that towel that keeps falling off. Eight Turbie Twists can be used for every 1 bath towel, think of all the quarters saved by using Turbie Twists!
3. Flip flops: Having to share showers with a hallway of other students is not always a pleasant experience. Reduce this stress by wearing flip flops while showering. It can reduce the chance for hygiene problems and will allow feet to stay healthy and clean.
4. Turbie Bath Wrap: Walking down the hallway after a shower in a bath towel can be very difficult trying to make sure the towel stays up while carrying a shower caddy, all while hoping that the towel doesn't fall to the ground. An easy fix is using a Bath Wrap, with its Velcro closure the Bath Wrap will stay secure while trying to juggle the shower caddy, room key, and whatever else one may have. The microfiber bath wrap is also light weight and dries much quicker than bath towels. Turbie Twist is pleased to launch a bath wrap to perfectly coordinate with the hair towels!
5. Over the door hook: Wet towels, Turbie Twists, and Bath Wraps can be a hassle on the floor of the small dorm room, which is why an over the door hook is perfect for post-showering items. Everything can be thrown on the hook and air dry much quicker, and be ready for reuse the next day!
College is exciting times in young adult's lives so don't let the stress of communal bathrooms ruin the college experience; just remember to pick up these five items to make showering and bathroom use a breeze!
New Turbie Twists and Bath Wraps can be found at Soap.com
To learn more about Turbie Twist visit http://www.TurbieTwist.com and find us on Facebook, Twitter, and Youtube.
About Turbie Twist, LP
Turbie Twist, LP is the sole manufacturer and distributor of the Turbie Twist® hair towel. The Turbie Twist® is smaller and easier to use than an ordinary bath towel that simply falls off.
The Turbie Twist® is a revolutionary product that allows one to be the ultimate multi-tasker while drying their hair. It's unique twist and loop system makes it the hair towel that stays in place. Featuring a tapered design that the Turbie Twist® allows for a perfect fit on all head sizes. It allows users to get dressed, apply make-up, and check email – all while drying their hair.