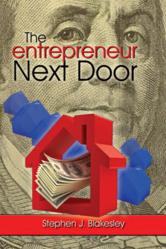 "We have plenty of entrepreneurs, just not enough successful ones"- Stephen J. Blakesley
Houston TX (PRWEB) May 31, 2012
GMS Publishing, in Houston TX announces a July 1, 2012 release date for the latest book by Author Stephen J. Blakesley.
The Entrepreneur Next Door is a 224 page adventure into the lives of successful entrepreneurs. "This book is for the common entrepreneur, the one next door," says Blakesley. "It is not about those high-profile entrepreneurs like Bill Gates, Larry Page or Reid Hoffman who are the exceptions rather than the rule."
"More people than you believe will have touched entrepreneurism, either by becoming one or having one in or near the family," said a GMS Publishing executive. "We simply want to help those people be successful and that is what the book is all about," he continued.
The Entrepreneur Next Door is about the entrepreneur but it is also about the climate in the United States for business. The book addresses most every aspect of a business startup with professional advice and practical experience