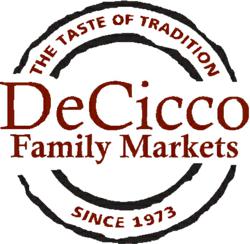 Westchester and Putnam Counties, NY (PRWEB) May 30, 2012
DeCicco Family Markets, the family-owned gourmet market known for its selection of meats, seafood and grocery, as well as a vast quantity of cheeses and beers from around the world, is hosting an all-day Food Festival on Saturday, June 2 from 10:00 a.m. to 4:00 p.m. in the parking lot of the company's Brewster store located at 50 Independent Way.
The event will include over 50 vendors of produce, grocery, dairy products, frozen goods, meats, cheese and beers from local farms, breweries, and locations in Orange, Putnam and Westchester counties. Local vendors and merchants from nearby Connecticut and Pennsylvania, as well as upstate New York, will conduct demonstrations throughout the day. Farmers, bakers, cheese makers, brewers and other exhibitors will provide samples and information at various tasting tables set up around the property and in-store.
The DeCicco culinary team, senior management and buyers have been visiting local farms, manufacturers and distribution facilities to ensure the freshness and quality of the products to be displayed. Some of the vendors include 3 Dogs Bakery of Briarcliff Manor; Boars Head of the Brooklyn; Captain Lawrence Brewery of Elmsford; Ciao Bella of Floram Park, NJ; Connecticut Shellfish Company of Branford, Conn.; Freebird Chicken of Fredericksburg, Penn.; Hudson Valley Harvest of New Paltz; Simply Greek Yogurt of Little Falls, NY; and Stonewall Kitchens of York, Maine.
In addition to all of these wide array of local vendors, kids will enjoy face painting, arts and crafts, games and more.
"In keeping with our mission statement, we are responding directly to customer feedback and suggestion by sourcing great food that is grown, raised or produced locally and that is close to our homes," said John DeCicco, Jr. "We anticipate a great turn out for the Food Festival and look forward to making it an annual tradition for local families."
The DeCicco Family Markets' Brewster location represents their largest store at 40,000 square feet. The store features in-house coffee roasting, on-site bakery, brick oven pizza, an in-store bar with beer, and sushi.
Visit a DeCicco Family Market nearest you: 21 Center Street, Ardsley; 50 Independent Way, Brewster; 505 New Rochelle Road, Chester Heights; 1 Cross River Plaza, Cross River; 3651 Lee Road, Jefferson Valley; 180 S. Main Street, New City; 43 Fifth Avenue, Pelham; and 58 East Parkway, Scarsdale.
About DeCicco Family Markets
DeCicco Family Markets was founded in 1972 by John, Joe and Frank DeCicco. It began as a small storefront in the Bronx, offering a choice of high quality food to its growing array of customers. For over 30 years, DeCicco Family Markets has a proud history of bringing the largest selection of high quality food available to customers with a friendly, personal touch. It is this simple but unwavering mentality that has enabled the company to expand throughout Putnam, Rockland and Westchester counties. The family operates eight stores in the following locations: Ardsley, Brewster, Chester Heights, Cross River, Jefferson Valley, New City, Pelham and Scarsdale. The company is also involved in a number of civic and community-related events, regularly working with schools, Little Leagues, churches and Chambers of Commerce groups.