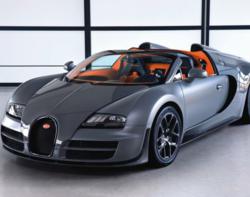 With the amount of horsepower packed into the roadster and the unique design, it has to make you wonder what will Bugatti come up with next.
Hollywood, FL (PRWEB) May 30, 2012
Bugatti has been well known for creating super cars that melt the speed limits and break to top speed records but not they have taken that to the next level. Now Bugatti has added another monster to their inventory of extreme super cars with the addition of the new Bugatti Veyron Grand Sport Vitesse.
"Over the driver's shoulder spins Bugatti's quad-turbo, 8.0-liter W-16 engine, tuned to deliver 1,200 hp and 1,106 ft lbs of torque to all four wheels through a 7-speed dual-clutch transmission. The automaker asserts that the Grand Sport Vitesse will dispatch 60 miles per hour in 2.5 seconds and press on toward 255 miles per hour—a claim that handily establishes this latest Veyron as the world's quickest, and fastest, roadster. Its top speed betters the standard Grand Sport's 229 mph and the Veyron coupe's 253 mph, though it falls a bit short of the Super Sport coupe, which uses the same 1,200 horses to touch a staggering 267 miles per hour."
Read more at: bugatti.com
A representative from BIllionairesBunker.com states that Just as you thought there wasn't any other super car out there that was any faster, Bugatti unleashes their Veyron Grand Sport Vitesse that is going to make your jaw drop not only because of the sleek design but also when you find out what the mad scientists have dropped into the engine compartment of this bad boy.
Read more about the Bugatti Veyron Grand Sport Vitesse