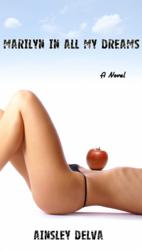 Coral Springs, FLA (PRWEB) May 30, 2012
What happens when a disturbed young woman dreams about a certain time and place that she finds familiar but can't explain why?
What happens when she dreams of herself being Marilyn Monroe and she feels a strong love towards a man she doesn't even know; she has only seen him in her dreams?
Author Ainsley Delva answers these interesting questions in his novel 'Marilyn in All My Dreams.'
Helen price, the protagonist of the novel, is a disturbed woman swimming in an ocean of good and evil. The novel highlights the struggles faces by a confused woman in achieving True Love and Self-discovery.
This unforgettable story of undying love will allow the reader to explore not only the heightened sensuality of a romantic suspense, but will give him/her the opportunity to encounter unique worlds and characters. This book will also provide the reader with insight and understanding of reincarnation and Past life challenges.
This amazing book is available on Amazon.com and Barnes and Noble in eBook formats.
http://www.amazon.com/s/ref=nb_sb_ss_i_0_14?url=search-alias%3Daps&field-keywords=marilyn+in+all+my+dreams&sprefix=marilyn+in+all%2Caps%2C207
http://www.barnesandnoble.com/w/marilyn-in-all-my-dreams-ainsley-delva/1111078341?ean=2940014364164
About the Author: Ainsley Delva is a writer, and photographer. On his free time he likes to read, paint, and fishing. He lives in Coral Springs, Florida, with his family and two dogs. This is his first novel.
For more information, please contact him at: gainsleyd(at)yahoo(dot)com.