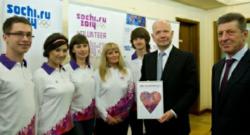 Russia and the United Kingdom are two of the leading sports powers in the world, and we have an interest in sharing our experience. The cooperation between our two countries is characterized by its constructive spirit
(PRWEB) May 29, 2012
The meeting took place in the White House and was also attended by ROC President, Alexander Zhukov, Head of the Sochi 2014 Organizing Committee, Dmitry Chernyshenko and Deputy Minister of Sport, Pavel Kolobkov. William Hague met representatives of the Sochi 2014 volunteer team, who had been selected by organizers of the London Olympic and Paralympic Games to volunteer in London, and received a gift from them, the symbolic volunteers' heart.
"Russia and the United Kingdom are two of the leading sports powers in the world, and we have an interest in sharing our experience. The cooperation between our two countries is characterized by its constructive spirit", - announced Hague.
In order to work at the Summer Games, 104 volunteers of the Sochi Olympics are going to London in July 2012. "There is a close and friendly level of cooperation between the organizers of the Olympic Games in London and Sochi. This serves as an example for cooperation in all other areas", - said Deputy Prime Minister of the Russian Federation, Dmitry Kozak.
The "warm heart" is a symbol of the Sochi 2014 volunteer program, its transfer from one volunteer center to another is a tradition which demonstrates the selfless desire to help and contribute to the common good, as well as encouraging the involvement of more and more people in the volunteer movement.