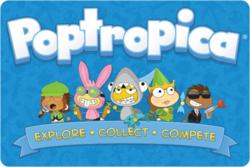 Through our exciting new partnership with Ubisoft, kids will now have another way to explore Poptropica's story-based adventures and solve its challenging quests...
Boston, MA (PRWEB) May 29, 2012
Today, Ubisoft® announced a partnership with Poptropica®, the massively popular virtual world for kids, to develop a video game featuring the site's best-loved characters and most popular Islands. The game will come to life for kids during the 2012 holiday season and will be available on the Nintendo DS™ system.
"Through our exciting new partnership with Ubisoft, kids will now have another way to explore Poptropica's story-based adventures and solve its challenging quests," said Jess M. Brallier, publisher of Poptropica. "This is yet another milestone in the explosive growth of Poptropica as a global brand."
Named as one of TIME magazine's Top 50 websites of 2011, Poptropica has been visited by more than 228 million kids worldwide since its launch in 2007. Players come from more than 130 different countries and have their web browsers set to more than 100 different languages, ranging from Spanish and Sanskrit to Vietnamese and Croatian. The recent debut of the site's new Poptropica Friends social networking offering saw 10 million kids from across the globe connecting within the first two weeks of its debut. All Poptropica Islands are free-to-play, and each represents a unique theme and challenge.
"Ubisoft is thrilled to have the opportunity to provide its audience with access to Poptropica's wonderful narrative storytelling experience via the Nintendo DS and other handheld gaming consoles," said Adam Novickas, senior director of marketing at Ubisoft. "The new Poptropica game is part of the growing trend of quality programming and storytelling extending its reach from an online environment to handheld devices."
About Ubisoft:
Ubisoft is a leading producer, publisher and distributor of interactive entertainment products worldwide and has grown considerably through a strong and diversified lineup of products and partnerships. Ubisoft has offices in 26 countries and has sales in more than 55 countries around the globe. It is committed to delivering high-quality, cutting-edge video game titles to consumers. For the 2011–12 fiscal year Ubisoft generated sales of 1.061 billion euros. To learn more, please visit http://www.ubisoftgroup.com.
About Poptropica (http://www.poptropica.com)
Poptropica is a virtual world in which kids explore and play in complete safety. Every month, millions of kids from around the world are entertained and informed by Poptropica's engaging quests, stories and games.
Kids create a "Poptropican" character to travel the many Islands of Poptropica and use gaming literacy to enjoy a narrative that is often rooted in factual history. Problem-solving skills are honed as kids discover and solve mysteries unique to each Island.
There are always new areas to explore in this ever-expanding world where kids can collect objects, read digital books and comics, watch movies, and compete in head-to-head competition. Parents can always trust that their children are playing – and learning – in a safe online environment.
Poptropica is published by Family Education Network, a part of Pearson, the education, services and technology company. Pearson's other primary operations include the Financial Times Group and the Penguin Group.
© 2012 Ubisoft Entertainment. All Rights Reserved. Ubisoft and the Ubisoft logo are trademarks of Ubisoft Entertainment in the US and/or other countries. Nintendo DS is a trademark of Nintendo.