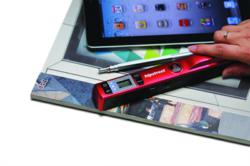 (PRWEB) May 31, 2012
It's time for executives and students to add another tool to their mobile collection.
Hipstreet, an emerging worldwide consumer electronics company, introduces the Portable Wi-Fi Scanner, a handheld wireless device to easily scan and save virtually any flat surface.
Students and researchers will love its versatility. Professionals can copy and share contracts and documents with the touch of a button.
The scanner's Wi-Fi capability means users do not need computers or cables to scan or share files. The device converts scanned items to JPEG or PDF files that can be viewed, downloaded and shared with multiple users of tablets, smartphones or any other Wi-Fi device with browser capabilities.
Traditional flatbed scanners have limited capabilities, but the applications for Hipstreet's Portable Wi-Fi Scanner are nearly unlimited. Users can scan documents, books, magazines, recipes, newspapers, pictures and even textured items such as fabrics or wallpapers.
Scanned files are crystal clear, with high resolutions up to 900dpi, in either color or monochrome modes.
Lightweight and portable, this Wi-Fi Scanner has its own handy travel case and can fit into a purse, backpack or briefcase. It requires 2 x AA batteries which are included and supports a MicroSD memory card up to 32GB (not included).
Started in 2002, Hipstreet specializes in consumer electronics. Based in Ontario, CA, Hipstreet has partners with more than 6,000 retail outlets throughout the world, with a focus on markets in North and South America, the UK, as well as the Indian subcontinent. Hipstreet products are available at Hipstreet.com, through retail outlets, including online retailers, mass merchandisers, electronics superstores, office superstores, home-shopping networks, major distributors and independent retailers.