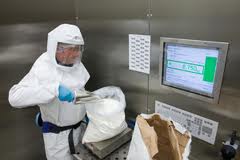 Finally, a new and different approach to inventory control that takes GMP compliance into account.
Cary, NC (PRWEB) May 30, 2012
GMP manufacturers can now have access to an Inventory Control System that was designed to automate GMP compliance. This is an innovative inventory control system that was built using a Quality by Design approach with GMP compliance as a prerequisite for introduction. Many firms try to manage their inventories with spreadsheets or rely on traditional software to keep them updated. InstantGMP™ offers a solution that streamlines inventory activities and integrates them with manufacturing operations.
InstantGMP™ provides the only inventory control system is 21 CFR Part 11 compliant, that comes with SOPs for inventory control and has GMP requirements hard coded into the software. This makes meeting FDA regulations quick and easy..
Some of the many system functions that are included:

Specifications management with version control
Purchase requisitioning with quality checks built in
Automatically generated purchase orders
Material receipt and warehouse recording
Control material status (Quarantined, Approved, etc.)
Inventory use tracked at every transaction
Track depleted inventory to trigger reorders
Secure configurable access based on user roles• A full audit log tracks every activity
InstantGMP™ is a hosted service that is fully validated and operates through a web browser. There is no need for installation, integration or validation on the client's servers.
About InstantGMP™:
InstantGMP™ is a web-based Part 11 compliant electronic batch record system with an independent inventory control system that can be used on its own. The system streamlines the entire process of GMP manufacturing of pharmaceutical products and dietary supplements. Its hard coded quality assurance procedures are built in to prevent errors and to maximize quality and to assure GMP compliance. The application comes with a complete set of manufacturing SOPs that can be easily assimilated into any existing quality system. InstantGMP™ simplifies documentation and approval procedures, reduces production times, improves quality and trims operating costs.