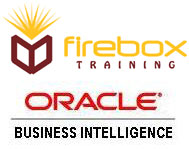 The OBIEE Create Analysis and Dashboards course gives students a hands-on learning experience...And our students really use their courseware after class as a reference guide
Golden, CO (PRWEB) May 29, 2012
Most veterans of the IT industry will tell you that when it comes to continuing education and training for IT, it all starts with good courseware. Firebox Training has been carefully monitoring feedback on its latest version of Oracle OBIEE courseware and the early results are very promising for the expanding IT training firm based in Golden, Colorado. With an average rating of 9.8 out of 10 with dozens of students providing the feedback, the pros at Firebox think they are on to something with the new OBIEE courseware and their students seem to agree.
Recent improvements to the courseware have been completed by Firebox Training founder and courseware designer, Julie Johnson improving on an already highly regarded program. The feedback from students is something Johnson is getting used to in recent months with many returning clients and lots of referrals flowing in from satisfied clients.
"The OBIEE Create Analysis and Dashboards course gives students a hands-on learning experience" commented Julie Johnson, founder of Firebox Training. "And our students really use their courseware after class as a reference guide." Part of the appeal with the Firebox curriculum is the affordability and focus. Many smaller and medium sized firms are simply priced out of the Oracle University options. Larger firms also appreciate the flexibility with niche training.
Firebox shared a few of the student comments from the recent courseware evaluation when they asked students to comment about the OBIEE course;
"The tool (courseware) is very powerful, fun and relatively easy to learn. The instructor was simply amazing- she knew everything; patiently explained everything; was never in a hurry and always considerate when addressing anyone's issues." –Actual Firebox Student Evaluation response
"The class exceeded my expectations because the product is even more complicated than I realized. Very knowledgeable instructor covering a very complex product. The unique cloud account for each participant was very helpful; we were never stepping on each other" –Actual Firebox Student Evaluation response
All of the OBIEE training courses from Firebox Training are instructor-led. This means there is always an expert to learn from whether the class is delivered in their Denver training center, online or onsite. During these hands-on OBIEE training classes, students spend 50% to 60% of the time doing practical labs. Because select Firebox instructors are also courseware designers, it is possible to schedule classes with the courseware creators when scheduling allows.
Oracle OBIEE has many components for the rapidly expanding business intelligence suite. OBIEE course offerings from Firebox are focused on Oracle Reports and Dashboards and the Build Repository specific technologies both 10g and 11g versions. Firebox has found their niche by focusing on core training within Oracle OBIEE designed to target those specific disciplines most requested by clients.
Oracle's OBIEE family of products is the result of years of growth through acquisition. The brief product history timeline goes like this; in 2000, nQuire was formed by Larry Barbetta CEO. From 2001-02, nQuire was courted and then purchased by Siebel. Fast forward to 2005, Oracle then purchased Siebel and added in Hyperion in 2007. Finally in 2010, Oracle 11g version of OBIEE was released. The highly regarded and used business intelligence systems are providing sophisticated integration tasks on a multitude of their Enterprise Information Models.
Firebox Training was founded in 2007 in Golden, Colorado. Since that time our team has delivered training for well known organizations including, General Dynamics, Bank of America, Comcast, NREL, Citrix, Time Warner, Carestream Health, City of Los Angeles and HP, just to name a few. Our instructors travel to client locations across the globe. Most recently we completed training in Ft. Bragg, Raleigh, Durham, Austin, Seattle and Denver.