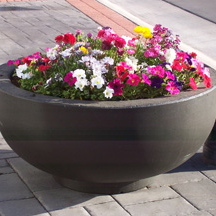 Manchester, CT (PRWEB) May 31, 2012
One thing is clear about BigPlanters.com, they love planting season!
BigPlanters' seasonal sale is a win-win for both BigPlanters' and the customer as it increases the number and size of orders during the busy season, reducing production costs and allowing them to provide their customers with the lowest priced planters anywhere. If you're looking for a new planter, BigPlanters' knows you want a high quality product for the lowest price possible. This is their motivation behind their latest spring sale, passing the savings onto the customer.
During this sale BigPlanters' has significantly reduced the price of many of their concrete planters and plastic self-watering planters. Their 4ft Square concrete planter has been reduced the most, from $999 to $550 for natural color and finish. Their popular concrete bowl planters have been significantly reduced as well, especially when ordered in a natural finish. BigPlanters.com offers planters of all sizes and designs in concrete, plastic, fiberglass, metal, and even an eco-friendly recycled glass mixed with concrete option.
If you are in the market for a new planter you will be doing yourself a major disservice if you don't first check out http://www.bigplanters.com or call 1-888-449-0542 to speak with one of their friendly sales representatives.