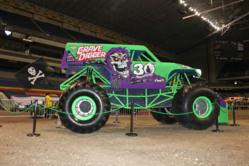 "Monster Jam is an exciting, family friendly event that we are thrilled to be associated with," said Michael Araten, president of K'NEX Brands. "We look forward to sharing that unique experience with our fans and their families in Philadelphia this year."
Hatfield, PA (PRWEB) May 31, 2012
K'NEX Brands, the only US construction toy company focused on Building Worlds Kids Love™, will participate at the Monster Jam® Party in the Pits in Philadelphia on Saturday, June 9th. K'NEX will host an interactive building station from 3 pm to 6 pm at the family friendly event held at Lincoln Financial Field. Monster Jam fans will get a look at the new 2012 K'NEX Monster Jam building sets and have the opportunity to build their favorite Monster Jam trucks including Grave Digger®, Maximum Destruction®, Grave Digger The Legend™, Son-uva Digger™, Advance Auto Parts Grinder™, Avenger and more at K'NEX building stations.
"Monster Jam is an exciting, family friendly event that we are thrilled to be associated with," said Michael Araten, president of K'NEX Brands. "We look forward to sharing that unique experience with our fans and their families in Philadelphia this year."
Also at the event, fans will have an opportunity to see the Grave Digger® 30th Anniversary K'NEX Big Build, a life-size replica of the famous Monster Jam truck. Built from over 250,000 K'NEX pieces, the Big Build will be on hand for fans to visit and take pictures with as part of the Grave Digger 30th Anniversary Experience. Monster Jam, owned by Feld Motor Sports, is the largest and most popular touring monster truck property in the world, entertaining over 4-million fans yearly across the globe.
Tickets are still available for the Advance Auto Parts Monster Jam event at Lincoln Financial Field. Log on to: http://www.monsterjam.com/Events/2012/06/09/Philadelphia,_PA/ for event and ticket information.
About K'NEX Brands
Founded in 1992, K'NEX Brands, the world's most innovative construction toy company, was established to make and sell what has become one of the world's leading integrated construction systems for children. Winner of over 200 international awards and recognitions, K'NEX is America's building toy company focused on Building Worlds Kids Love, and encourages youngsters to "imagine, build and play." Since 1992, The Rodon Group, a subsidiary of K'NEX Brands, L.P., has manufactured over 30 billion parts for the K'NEX building toy system. For more information, please visit http://www.knex.com or http://www.rodongroup.com.
About Feld Motor Sports®
Feld Motor Sports, Inc. is the world leader in specialized arena and stadium-based motor sports entertainment. Feld Motor Sports, Inc. productions include Advance Auto Parts Monster Jam®, Monster Energy Supercross, AMA Arenacross Series, Nuclear Cowboyz® and IHRA® Nitro Jam®. Feld Motor Sports, Inc. is a division of Feld Entertainment, the world's largest producer of live family entertainment. For more information on Feld Entertainment, visit http://www.feldentertainment.com.