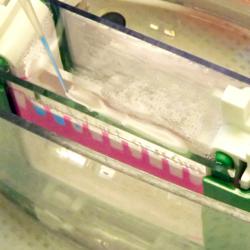 Solon, OH (PRWEB) May 31, 2012
The Laemmli gel is the standard formulation for discontinuous denaturing electrophoresis of proteins. It is comprised of a low percentage polyacrylamide stacking gel and a higher percentage polyacrylamide separating gel, each formed by mixing multiple chemical components. AMRESCO now offers the Colored Laemmli Stacking Gel Solution for fast and easy preparation of 4% stacking gels. The solution not only reduces the number of pipetting steps required, but also facilitates protein loading by highlighting the sample wells with color.
AMRESCO's Colored Laemmli Stacking Gel Solution is a convenient mixture of acrylamide, stacking gel buffer and inert pink dye, which requires only the addition of ammonium persulfate and TEMED to form a stacking gel. The pink dye enhances the visibility of the sample wells to simplify protein loading, without interfering with the performance of the gel. The gel may be used with all standard downstream applications, such as gel staining and Western blotting. The new Colored Laemmli Stacking Gel Solution is stable for at least one year at room temperature and is ideal for all labs pouring their own gels.
For more information about the Colored Laemmli Stacking Gel Solution or any other AMRESCO products, visit http://www.amresco-inc.com or call 1-800-448-4442.
AMRESCO is a manufacturer and supplier of high quality biochemicals and reagents for molecular biology, life sciences, proteomics, histology and clinical areas of research. The company is ISO certified and has QSR compliant facilities to ensure customers receive the highest quality products.