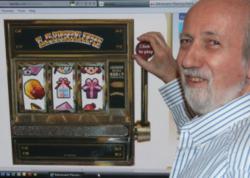 Retirement is one of the most life-changing stages people face and the new facility is aimed to provide ideas to make the most of this completely new period of life in a fun way
(PRWEB UK) 31 May 2012
The Laterlife One-armed bandit
British people today can expect to spend at least 7000 days in retirement with many facing more than 10,000 non working days ahead.
Alongside finances and health, the area of most concern to retired people in the UK is their social life and how to fill their days with worthwhile activities.
Now a fun new facility has been launched to assist older people explore brand new ideas to enhance their lifestyles.
British retirement specialist Laterlife has launched a one-armed bandit activity selector offering suggestions and information on over 500 'What shall I do today?' ideas.
Suggestions cover the widest range of activities from passive and educational to volunteering, active and extreme. Selections are linked to contacts and tips on pursuing the activity.
"The key to the one-armed bandit is that the selection is random," said Tony Clack, Managing Director of Laterlife. "After 50 or 60 years it is easy to get into ruts about the type of activities you might undertake. The one-armed bandit has been designed to be both fun and to encourage people to look at completely new ideas that initially they might never have considered as being appropriate for them."
For people over 60, one-armed bandits were common mechanical devices of their youth and the Laterlife machine is based on the traditional machines complete with the original noises and spin programmes.
Instead of pairing up three of the same fruit to win a cash prize, the new Laterlife one-armed bandit offers a trio of fun visuals linked to activities and themes. Each time the handle is pulled, a group of three different suggestions covering various themes such as having fun, being active, learning and contributing will come up.
Along with the icons, related information will also appear. For instance, if your selection includes the subject of 'Indulge in Nostalgia', then there is information and links to cover an incredible range of related areas from the RAF museum to fans of the old Dixon of Dock Green TV programme to classic toy collecting groups.
Suggestions cover the widest range of ideas such as becoming a volunteer at the local Citizen's Advice Bureau, adopting a tiger, finding good websites for grandchildren, registering as a dog walker, keeping chickens, growing a bonsai tree, learning carpentry, going gliding, helping teach someone to read, go-karting or buying an ordnance survey map to walk your area - the list is endless.
"The facility is still being developed with lots more information to come " said Tony. "But our early test runs have had excellent results with some people saying they make a serious pledge to try whatever comes up when they pull the handle.
"Retirement is one of the most life-changing stages people face and the new facility is aimed to provide ideas to make the most of this completely new period of life in a fun way," he added. "There is the opportunity for visitors to submit their own ideas too and we have already seen some great suggestions".
The one-armed bandit is available for everyone to play on http://www.laterlife.com/bandit.htm
Editors notes:
Laterlife started twelve years ago with the launch of http://www.laterlife.com offering a rich mix of reference information, monthly feature articles, products and services of interest to those over 50. The company is now also well recognized for its numerous corporate and public retirement courses it runs around the UK covering preparation and making the most of retirement. It is also the central focus for the Laterlife Challenge, a national event recognizing people who do something different with their lives. http://www.laterlife.com
Currently receives over 1.5 million visits a year.