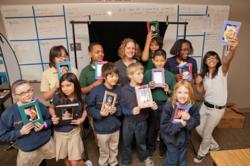 "As you will see, the members of the vital NCAS community are full of rich history and stories that span the globe—stories that deserve to be told, shared and celebrated," said Jan C. Nadav, Mizel Museum director of education and interpretation.
Denver, Colorado (PRWEB) May 29, 2012
The National Endowment for the Arts (NEA) announced recently that it has awarded a $17,000 grant to Mizel Museum to partner with Noel Community Arts School in the 2012-2013 school year for the initiative, Stories Matter, an innovative museum education project in which NCAS will work with artists-in-residence to introduce the new perspectives on cultural pluralism through the arts to middle school students.
"The arts should be a part of everyday life," NEA chairman Rocco Landesman stated in a release last week. "Whether it's seeing a performance, visiting a gallery, participating in an art class, or simply taking a walk around a neighborhood enhanced by public art, these grants are ensuring that across the nation, the public is able to experience how art works."
Noel Community Arts School students will have the opportunity to work with acclaimed photographer Dona Laurita as lead artist-in-residence and internationally-known storyteller, Cherie Karo Schwartz on this innovative project exploring themes of culture, immigration and personal history through the arts. Stories Matter gives students the invaluable opportunity to work with professional artists who help them express through their own voices and images, the vitality and importance of their cultural backgrounds and family histories.
"This project was developed to allow school communities to discover and celebrate the mosaic of their students' cultures as an essential educational resource," said Jan Cooper Nadav, director of education and interpretation at the Mizel Museum.
In preparation for the project, the students will participate in a tour of the Mizel Museum's permanent exhibit, 4,000 Year Road Trip: Gathering Sparks – a dynamic journey through art, artifacts and digital media that narrates and celebrates Jewish history and culture. This will provide a backdrop to the students' own explorations of their cultural backgrounds and stories.
Storyteller Cherie Karo Schwartz will introduce students to the timeless art of storytelling and the importance of oral tradition and the elements of good stories. Through this exploration of stories, students will identify a personal treasure representing their backgrounds; which in turn, they will write about.
In the following weeks, Dona Laurita will work with the students to explore photography and the visual arts. Students will learn how to use high-quality digital cameras and be introduced to the elements of composition. They will also work on an innovative mixed-media art technique utilizing used books as canvases for their photographs.
This project will yield a permanent exhibition at the school and will be integral to the Museum's new traveling exhibitions and programs that focus on intercultural relations and awareness.
"As you will see, the members of the vital NCAS community are full of rich history and stories that span the globe—stories that deserve to be told, shared and celebrated," said Nadav. "We are eager to give students the opportunity to express the importance of their own backgrounds in their own images and words. We will be seeing and learning much from what they create and deem significant."
Brian Weaver, a teacher at Noel Community Arts School, said, "This award will be enjoyed with the spirit in which it was generated… The spirit of conversation, community, and creativity. The partnership and friendship Jan and I formed years ago was completely organic and altogether right; I'm not at all surprised at this exciting fruitfulness all around."