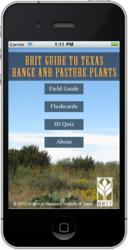 BRIT is continually striving to provide botanical knowledge in new formats," said Dr. S.H. Sohmer, BRIT's president and director.
Fort Worth, Texas (PRWEB) May 29, 2012
The Botanical Research Institute of Texas (BRIT®) announced today the availability of its "BRIT Guide To Texas Range and Pasture Plants" mobile app for Apple iOS that can run on iPhone, iPad, or iPad Touch and for Android platforms. The digital field guide is a valuable resource for those who strive to understand, study, use, protect, and appreciate key range and pasture plants of Texas. The cost is $1.99.
The 129 featured plants were chosen from the Range and Pasture Plant identification list used by FFA and 4H students in local and state competitions, including an annual competition at the Fort Worth Stock Show and Rodeo. However, the mobile app is intended for anyone who has an interest in Texas range and pasture plants, including farmers, ranchers, naturalists, and teachers and students.
"BRIT is continually striving to provide botanical knowledge in new formats," said Dr. S.H. Sohmer, BRIT's president and director. "For the first time, students can study plant images provided by expert botanists, combined with the facts they are trying to learn for FFA and 4H competitions."
The Guide provides a listing and details of all 129 plants in the application. Each plant includes a detail page with information such as the common and scientific name, a pronunciation guide for the scientific name, a short description of the species including the growth season, native or non-native status, and the wildlife and grazing value. The field guide also includes an image of a BRIT herbarium specimen for each plant species as well as links to external resources with further details about each species.
The BRIT Guide to Texas Range and Pasture Plants also features Plant Identification Quiz and Flashcard programs. The Identification Quiz tests students' knowledge of the plants by displaying an image of each plant and letting them select the common name for the plant. Once completed, the quiz reviews answers to help the student to further improve his/her identification skills.
"BRIT's scientists have put together an invaluable learning tool for these students that provides a foundation for future learning," said Kerri Kretzmeier, Coach, Bosque County plant ID team. "Developing an appreciation of our botanical heritage at an early age will better equip tomorrow's decision-makers to care for our land."
"While many plant species can be found in Texas rangelands, the student competition list we used for those profiled in this app focuses on many of the most important," said Barney Lipscomb, Leonhardt Chair of Texas Botany at BRIT "The featured plants have an impact on the economic well-being of our state's agricultural industries and the region's biodiversity."
For more information about the app and how to purchase, go to: http://www.brit.org/rangeplants.
About BRIT
Founded in 1987, the Botanical Research Institute of Texas (BRIT) based in Fort Worth, Texas is an international, scientific research and learning center focused on conservation, knowledge sharing and studying the diversity of plant life. BRIT conducts extensive global research, including major projects in Texas, Europe, Peru, and the Pacific Islands. In the last 10 years, BRIT scientists have located and described scores of species previously unknown to science. BRIT's herbarium is among the largest in the United States and is the largest U.S. herbarium not part of a university, botanical garden, or broader natural history museum.
In the spring of 2011, BRIT moved into its new, US Green Building Council LEED (Leadership in Energy and Environmental Design) Platinum-certified headquarters located in the Fort Worth Cultural District. For more information, visit http://www.brit.org.