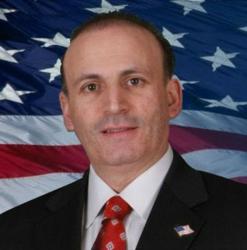 Qarmout is 100% pro life, his Republican opponent supports abortion.
Newton, NJ (PRWEB) May 30, 2012
Bader Qarmout, Republican primary candidate for the United States Senate, and his opponent both claim to be pro-life – for good reason, it appeals to their Conservative base. However, surveys and voting records tell a different story. The record shows that his opponent Joe Kyrillos supported abortion up to the time of birth in is vote for S1909, The New Jersey Clone and Kill Law, and he has voted for NJ Senate Bill S2199, which establishes the NJ Advisory Council on End-of-Life Care in the DHSS (Department of Health and Senior Services) to be enacted here in New Jersey.
Voting records show that Kyrillos was one of five Republican Senators that voted in favor of S1909 that allows for unwanted embryonic human beings from infertility clinics to be dissected and killed. By extension, this Bill permits partial birth abortion by allowing this type of research to continue through the nine months of pregnancy, something many prochoice legislators find abhorrent. Prolife voters should ask if this is something a true prolife candidate would vote to support.
Marie Tasy, Director of Public & Legislative Affairs for New Jersey Right to Life, said, "This is truly mad science." She also stated, "In their quest for national fame and notoriety, NJ lawmakers have acted irresponsibly to create a foul climate where ghoulish human experimentation and organ harvesting will be performed and human embryo and fetal farms will flourish throughout our state." Tasy continued, "Because the prohibited conduct of cloning a human being draws the line only at the newborn stage, abortions including partial birth abortions up to the day of delivery would be authorized under this legislation."
Recently, JerseyProlife, one of New Jersey's premier pro-life organizations led by Andy Schlafly (http://jerseyprolife.com/index.php?title=Main_Page) endorsed Qarmout. JerseyProlife took the time to research the subject and the candidates' positions before issuing the endorsement and considered Qarmout's position to be consistent with prolife advocates. The Qarmout campaign is pleased to have the endorsement of such a prestigious group.
RoseAnn Salanitri, campaign manager for Qarmout, stated, "The people of New Jersey have had many candidates who claim to be one thing when campaigning and transform into something else when voting. This is especially true when it comes to prolife issues. People just assume that Republicans vote prolife and pro Second Amendment. In the case of Joe Kyrillos (who has a C-rating from the NRA, which is unusually low for a Republican legislator) that simply isn't true.
"The Qarmout campaign believes that since the inception of this country, government has had the fundamental responsibility to protect all life – especially for those who cannot protect themselves. If you can't trust your legislators to understand such a basic function of government, what else can't they be trusted with? Perhaps it's the reason this country is in the predicament we find ourselves today."
Contact: RoseAnn Salanitri, Campaign Manager for Bader Qarmout
862.266.3952, email: emailroseann(at)gmail(dot)com