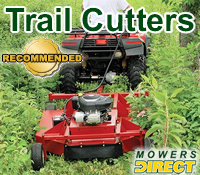 A trail cutter is a tow-behind rough-cut mower that uses heavy-duty hardened steel swinging blades instead of a traditional rotating mower blade
Bolingbrook, IL (PRWEB) May 29, 2012
Today MowersDirect.com announced its recommendations for the best trail cutters.
"If you have a large field that has turned into a briar patch, then consider getting a trail cutter," said Todd Gwaltney, resident product expert at Mowers Direct. "A trail cutter attaches to your ATV, lawn tractor or other utility vehicle and is designed to cut overgrown grass and brush."
Top Trail Cutters
Good: Swisher (44") 12.5 HP Tow Behind Rough Cut Trail Cutter - RTB12544
Better: Swisher (44") 14.5 HP Tow Behind Rough Cut Trail Cutter - RTB14544
Best: Swisher (52") 18.5 HP Tow Behind Rough Cut Trail Cutter - RTB18552
A trail cutter is a tow-behind rough-cut mower that uses heavy-duty hardened steel swinging blades instead of a traditional rotating mower blade. These rough cut mowers can cut tree stems up to 3" in diameter and you can tow one on and off the beaten path.
Mowers Direct specializes exclusively in walk-behind, riding and tow-behind mowers, as well as lawn tools and lawn mower accessories.
The online retailer combined retail prices, recent sales history, customer reviews and personal insight to generate its final trail cutter recommendations.
Once the dust and data settled, only 3 tow-behind trail cutters sold by MowersDirect.com were given its prestigious "Recommended" status.
In addition, Gwaltney personally wrote recommendations for all the trail cutters that made the grade.
MowersDirect.com hopes to provide customers with enough information and expert insight to allow them to pick the perfect trail cutter for their lawn-care needs.
Power Equipment Direct operates 11 niche online superstores. In addition to MowersDirect.com, the Bolingbrook, IL-based company operates AirCompressorsDirect.com, ChainSawsDirect.com, ElectricGeneratorsDirect.com, LeafBlowersDirect.com, LogSplittersDirect.com, PressureWashersDirect.com, SnowBlowersDirect.com, SumpPumpsDirect.com, TillersDirect.com and WaterPumpsDirect.com.