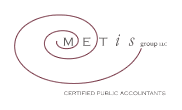 "We are pleased and honored to be recognized as a finalist in this category," said Metis Group Managing Partner Glenn Friedman
New York Metro Area, NY (PRWEB) May 31, 2012
The New York Enterprise Report (NYER) named Metis Group, LLC, a highly-skilled, full service accounting firm, as one of its top three finalists for the 2012 Accounting Firm of the Year. Metis Group — a young, up-and-coming firm — joins an elite group of deep-rooted firms that are being considered for this award. In its third year, this special awards program recognizes the New York Tri-State area's top business advisors.
The New York Enterprise Report is a monthly B2B publication featuring "how-to" articles written by business experts to help owners of small and midsize businesses grow their companies. Over 100,000 business owners and executives in the New York tri-state area rely on The New York Enterprise Report for ideas and solutions.
"We are pleased and honored to be recognized as a finalist in this category," said Metis Group Managing Partner Glenn Friedman. "Metis appreciates NYER identifying Metis Group as a finalist and I am confident that we will all remain focused as we continue to deliver our clients maximum skills on both a business and personal level."
All applications were judged based on a scoring system. Those applications ranking above the cut-off score were chosen as finalists. The judges of the applications consist of a panel of experts that include business owners, accountants and attorneys. Winners will be announced at The New York Enterprise Report Best Accountants and Attorneys for Privately Held Companies Awards scheduled for Wednesday, June 13th from 6 p.m. to 10 p.m. at the Trump Soho in New York City.
About Metis Group
With 19 partners and principals and 67 team members, Metis Group has grown into one of the leading accounting/consulting firms in the NYC tri-state area, that continues to provide personal services to its clients across the eastern seaboard and overseas.
Metis Group offers a full slate of services including Accounting and Auditing; Tax Services; Forensic Accounting and Litigation Support Services; Business and Strategic Planning; Real Estate; Outsourcing; Not-for-Profits; Real Estate Services; and Co-op and Condominium Accounting. Metis partners and staff undergo continuing professional education so that the firm brings the most current accounting principles to the job.
Focusing on financial planning and long-term financial goals, Metis Group offers its Kottin-Metis Wealth Management Group, an Ameriprise Franchise. This extension of Metis addresses the needs of its clients' wealth management issues and concerns. Metis also offers its clients Computer and Consulting services through its affiliate Acctrack Computer Consultants, Inc.