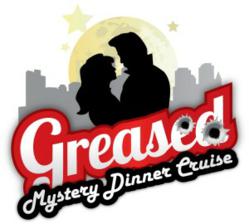 Boston, MA (PRWEB) May 30, 2012
Mystery Café, the Greater Boston murder mystery dinner theater, brings back its Boston Harbor Cruise with Greased Mystery Dinner Cruise being held this summer on The Fort Warren. The event kicks off with its maiden voyage on June 16th and will run for most Saturday nights throughout the summer. The show will board at 7pm, leave the harbor at 7:30pm and run about 3 hours long. Tickets can be purchased online or through the box office at 781-784-7469.
The Mystery Dinner Cruise this year has a theme of Grease and 50s culture with dancing, dining, singing, and of course the murder mystery. Actors will act out scenes of a Grease inspired murder mystery and everyone in attendance will help try to solve the crime. The original comedy performance will take place throughout the cruise ship while a buffet is served for appetizers, dinners, and desserts.
Mystery Café holds other murder mystery events in addition to the Harbor Cruise. Both public shows including Reunions Can Be Murder and Mobfellas are held on weekend nights in downtown Boston and offer an original murder mystery comedy show as well as dinner and dessert. Private shows are also offered through the box office at the location of choice with several different themed shows.
David Goldstein started Mystery Café back in 1986 with the idea of having a whodunit dinner show with audience participation. The themes of the shows change from year to year with an offering of new storylines for the actors to perform at locations in downtown Boston. The popularity of murder mystery shows has grown since Mystery Café was founded and they still bring new performances for weekend events.