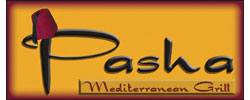 San Antonio, TX (PRWEB) May 31, 2012
Go Pasha! Recently chosen by the readers of San Antonio Current as "Best of San Antonio" for the Middle Eastern restaurants category, Pasha Mediterranean Grill has pressed forward into the Stone Oak area with a beautiful new Loop 1604 location adorned with the same highly successful menu. The term "Pasha," from an honorary title similar to knighthood, has bestowed good fortune onto both locations. The owners have enjoyed an entirely new loyal following for Pasha at The Vineyard, and have delved even deeper with sponsorship events to strengthen their ties with the community.
Pasha Mediterranean Grill at The Vineyard debuted in 2011 with a promotional event giving away free meals to 600 guests, which cultivated a strong regular following. Fueling patron loyalty is a menu boasting two Gold "Critics' Choice" Awards, and a Bronze "Readers' Choice" Award from the San Antonio Express News. Pasha also swept the categories of "Best Dolmas" and "Best Iced Tea" from other area eateries.
Consumer demand highlighted the Stone Oak area as the optimal choice for a new location, and the owners have been anything but disappointed in the turnout. In addition to an entirely new customer base, certain Spurs players now regularly dine at the new location, while visiting NBA team members have been spotted at the original Pasha when San Antonio hosts them. In appreciation of their loyal sports following, Pasha officially sponsors Texas FUEL, the ABA Men's Professional Basketball team, entertaining visiting teams from the U.S., China and Japan. Pasha is also the official sponsor the new ABL team, Texas SURGE, combining forces with former NBA All Star, Kenny Anderson and international basketball icon Tony Parker, Sr., the father of the San Antonio Spurs All Star and MVP candidate, Tony Parker. The Sports Legends Charity Golf tournament, which created the Mike Mitchell Memorial Scholarship, was initiated by one of the owners of Pasha Mediterranean Grill to honor sports legends, past and future.
Adding to their list of esteemed patrons, Pasha catered a celebrity dinner at La Villita in March, benefiting the Center for Family Relations, hosting local names of renown such as Sean Elliott and Josh Davis. At the end of that month, Pasha sponsored the first ever Welcome Home Vietnam Veterans Memorial at Texas' oldest VFW Post with Congressman Lloyd Doggett. The grill has provided free Ramadan dinners at Haven for Hope, booths at Six Flags, SA Yes, Culinaria, Luminarias, the King William Fair, and the San Antonio Museum of Art, among other community event venues. On June 15th, Pasha Mediterranean Grill will host The Bachelor Ball at the Dominion Country Club, showcasing local bachelors with a dinner and live auction.
About the company:
In 2008 two families came together with the dream of providing a culinary experience fit for a Pasha. Throughout history, the Eastern Mediterranean has been famous for producing world renowned chefs and gastronomical delights. To celebrate this great heritage, Pasha Mediterranean Grill strives to bring a unique and healthy alternative that does not disappoint, with delicious seafood, lamb, beef, chicken and vegetarian dishes. Their award winning menu takes customers on a culinary journey where only the freshest ingredients will do. An amazing variety of traditional family recipes awaits at Pasha. Pasha Mediterranean Grill, where the flavors of the Eastern Mediterranean come to life! For more information visit their website at http://www.gopasha.com.