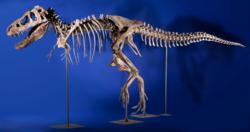 "The day after the auction, we placed the Tyrannosaurus bataar skeleton in crates," said James Halperin, Co-Chair of Heritage, "then moved it to a secure, insured facility in the New York City area."
Dallas, TX (PRWEB) May 30, 2012
His Excellency Elbegdorj Tsakhia, President of Mongolia, and Heritage Auctions, Inc. jointly announce their cooperation in investigating the origin and ownership of a rare Tyrannosaurus bataar skeleton that was placed for auction in New York City, on May 20, 2012.
President Elbegdorj said, "I commend Heritage Auctions and its consignor for assisting with my investigation into the origin and legal ownership of this Tyrannosaurus bataar skeleton. The Mongolian government will be sending a delegation of Mongolian and international experts and representatives to New York City in early June to inspect the skeleton in the presence of both the consignor and a representative of Heritage Auctions."
In addition to agreeing to the inspection, Heritage Auctions has, with full permission from its consignor, promptly disclosed to the attorney for the Mongolian President all of the available information related to provenance, chain of custody, shipping manifests and import/export.
The Mongolian government has provided Heritage Auctions with an English translation of the Mongolia laws and regulations concerning the export from Mongolia of rare artifacts, including fossils and dinosaur skeletons. The Mongolian President will also share with Heritage Auctions the results of the study of the skeleton that his experts will conduct in early June.
Advised that the skeleton was likely from Mongolia and concerned that there has been no legal mechanism to export such specimens from Mongolia for decades, the President of Mongolia retained Texas attorney Robert Painter to protect the dinosaur during a comprehensive investigation of its legal ownership. Painter filed a lawsuit, in the name of President Elbegdorj, the day before the auction, and secured a temporary restraining order (TRO) to preserve the status quo. The parties recently agreed to extend the TRO indefinitely to allow the investigation to go forward in an orderly fashion.
Painter said, "Following some very productive conversations with the leadership of Heritage Auctions, we have concluded that Heritage Auctions honored the spirit of the temporary restraining order: Conducting the sale contingent upon the outcome of the Texas lawsuit filed by President Elbegdorj ensured that the Tyrannosaurus bataar skeleton was never in danger of being transferred to a buyer before the question of legal ownership could be answered."
Jim Halperin, Co-Chairman of Heritage Auctions, said, "The day after the auction, we placed the Tyrannosaurus bataar skeleton in crates then moved it to a secure, insured facility in the New York City area. We will not move it from there until there is an order from the Court authorizing us to do so."
President Elbegdorj said, "Like the United States, Mongolia is a democracy that has tremendous respect for the rule of law. I believe that, guided by the rule of law, we will reach the correct outcome in the near future, which will benefit all parties, including Heritage Auctions, its bidders and consignors, the scientific community, and the people of Mongolia."