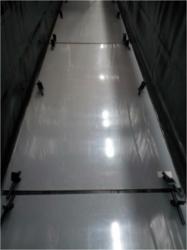 It's simply the best solution to anyone having a continuing problem of tearing the bottom of a tank liner
Claremore, OK (PRWEB) May 30, 2012
A common problem for metal finishers is the risk of racks or parts falling off the line and punching holes in a liner. Andrew Hotchkies, President of Witt Lining Systems, says there are several methods for dealing with this problem including a double layer of lining material. Today he announced that Witt Lining Systems is offering a better alternative with a bottom comprised of a rigid sheet of plastic.
Hotchkies said "The problems with just a double layer of material are that it can be torn, which can interfere with process work, and that it has to be repurchased when replacing the liner. An hydrolytic bottom made from a rigid sheet solves both these issues."
The solution begins with cutting rigid sheets to the appropriate size. Each sheet is secured by liner tabs welded on the bottom of the liner so that one loose end of the tab can be poked through a corresponding hole in the sheet. The tab has a hole punched in it to allow a 1/2" diameter Sch. 80 PVC pipe to be inserted. The pipe acts as a pin to hold the sheet in place.
Because the material of choice, polypropylene (or PVC in chrome), will float in water or anything denser, it creates an hydraulic cushion as well as a rigid physical barrier. Any object landing on the sheet forces the sheet down but must displace all the liquid between the sheet and the liner before the sheet contacts the liner. This hydraulic shock absorber drastically reduces the force of the impact and the object must still penetrate the 1/4" thick (typically) rigid sheet before it can reach the liner. The depth of the hydraulic cushion can be manipulated by the length of the tab and the location of the pipe hole. Furthermore, the sheet is removable for easy tank clean up or liner inspection.
Witt Lining Systems is offering this in conjunction with Stein Industries. Stein Industries has successfully used this design in several applications with great results. "It's simply the best solution to anyone having a continuing problem of tearing the bottom of a tank liner", said Melvin Stein of Stein Industries.
Witt Lining Systems is located in Claremore, OK. The company manufactures flexible PVC liners used for corrosion resistance in process tanks, storage tanks, vats, sumps, pits, and containment areas. PVC brands include Spectra Blue, Exceline and Koroseal PVC along with NSF-61 PVC and Teflon liners. For more information contact 1-800-323-3335 or visit http://www.wittliners.com
Stein Industries is a custom designer, fabricator, and installer of plastic tanks, custom equipment, and Witt Linings' factory installer in industrial and commercial applications. The company is located in Bryant, IN. For more information contact 1-260-997-6700 or visit http://www.steinindustries.com.