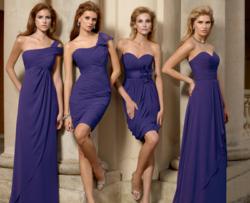 Port Jefferson Station, NY (PRWEB) May 31, 2012
The act of blending or joining two peoples lives together in a form of a ceremony , also known as a wedding, has been going on for centuries. Couples exchange nuptials pledging themselves to each other for the rest of their lives. This milestone in a couples life is one of the most life changing commitments a person can make. Weddings are memorable, intimate, romantic, celebrative, and many times religious.
How a couple decides to "tie the knot" can differ from one person to the next. Many couples prefer a formal wedding that is usually held in a place of worship or hotel ballroom. The wedding party is usually quite large as well as the guest list. The groom and usher' attire usually consist of tuxedos, or tails, and the bride's gown is commonly white or ivory, with a long train, with exquisite detail of stones and pearls. Great designers like Madeline Gardner of Mori Lee and Christina Wu offer beautiful formal designs suited for any bride. Styles which include ball gowns or mermaid cuts would be a perfect look for a formal wedding. The bridesmaid should be captured in a long formal gown style. The Maid of Honor can occasionally be shown in a different style or shade of color than the bridesmaids. Designers such as Alfred Angelo, Bella Formals and Bari Jay offer large collection of formal bridesmaids' gowns.
For couples who want something a little more intimate, opt for a semi-formal Wedding. Semi-formal Weddings are usually held at a place of worship, restaurant, banquet hall , home or beach. The wedding party and guest list are usually smaller in number and the groom may opt for a suit instead of a tux. The bride however usually chooses a dress with little or no train. A charming collection of semi-formal wedding gowns can be found in the Jacquelin Bridal Collection, or the designs of Bonny Bridal. When it comes to the bridesmaids dresses, in a semi-formal wedding, many brides prefer short style dresses. Brides are becoming more creative with their bridesmaids dresses. One expression is to display different color dresses but stay in the same color palette. This is a soft but unique look. Another choice observed is when the bridesmaids are the same color, but the dress style is different. Many bridesmaids often like this choice, because not two bridesmaids are built alike! Forever Yours offers a wonderful lineup of bridesmaid styles in a broad choice of colors as does the Affairs Collection by Mori Lee.
The last wedding style is the informal wedding. Usually held in a place of worship, garden, home or beach. The wedding party is usually small, usually no more than six total. And the ceremony is usually followed by a small party at a home or restaurant. Most brides, for informal weddings, opt for a short dress, while the groom wears a suit. Destinations by Mon Cheri presents a charming yet elegant assortment of short wedding dress for such an affair. The bridesmaids (if there are any) usually follow suit and wear a short dress. Pretty Maids by House of Wu also has an amazing collection of short bridesmaid dresses in a considerable amount of colors.
Most, but not all weddings have a flower girl. Depending on the style wedding chosen will factor in the style of the flower girl dress. If it is a more formal wedding, Magic Moments suggest looking towards designers like Belle of the Ball, Macis Designs, Little Maiden by Venus or Joan Calabrese. For a semi-formal wedding focus your attention on designers like Expressions by Forever Yours or Sweetie Pie.
There are so many style weddings today that the bride and groom can choose the perfect one to reflect their taste. The designers today have created so many alternatives in colors and styles that every wedding is exclusive to each couple.
Company Profile
Magic Moments is an authorized retailer of over 50 designers. Jovani, Tony Bowls, Flirt, La Femme, House of Wu, Terani, Mori Lee, and Mac Duggal are just of the few designers they carry that have been seen on the Red Carpet and inside the pages of high-fashion magazines. They have been serving their community on Long Island, in NY for many years and dressing women all over the globe through their online stores and fabulous customer service. Magic Moments offers three online shops for those who like to or need to shop from home.