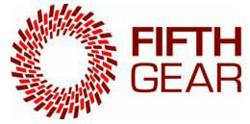 Smarter Remarketer complements our goal of helping retailers achieve growth through technology-enabled services and targeted marketing."
Indianapolis, IN (PRWEB) May 30, 2012
Smarter Remarketer and Fifth Gear, two leading ecommerce solution providers serving global retail brands, announced a mutual referral partnership today that will develop operational efficiencies and drive incremental revenue opportunities for their retail clients. Under this partnership, each company will stress the importance of targeted marketing strategies backed by solid operations to maintain the customer loyalty of online shoppers.
Both headquartered in Indianapolis, Smarter Remarketer and Fifth Gear have a mutual interest in helping their retail clients meet revenue goals in a rapidly growing, competitive industry. Each company offers a consultative approach by identifying gaps in operations and marketing to improve overall sales and profitability margins. In this new partnership, the companies will recommend one another to their clients as preferred vendors in their respective areas of expertise.
"Everything we do is focused on ensuring that our clients can focus less on the order fulfillment process and more on their merchandising and marketing efforts," said Steve Warren, vice president of business development at Fifth Gear. "Smarter Remarketer complements our goal of helping retailers achieve growth through technology-enabled services and targeted marketing. We believe in their solution and what it can do for our clients."
By aligning with an order fulfillment partner, Smarter Remarketer will enable retailers to plan, power, and monitor email remarketing campaigns leveraging their buyers' previous purchase data. In addition, they can help retailers target online visitors with unique messaging and product suggestions based on recent shopping behavior.
"The world of remarketing is changing; it's getting smarter," said Howard Bates, CEO of Smarter Remarketer. "Retailers need to take advantage of data that customers leave behind with every visit. This allows them to move beyond basic abandonment to engage more visitors, more frequently, and more profitably than ever before. By combining Smarter Remarketer and Fifth Gear's expertise, we offer an unmatched solution to retailers seeking to engage and retain more customers, providing incremental revenue lift and increased margin opportunities."
###
About Smarter Remarketer
Smarter Remarketer provides a Software-as-a-Service (SaaS) platform of automated and data-driven campaign management applications which give multi-channel retailers the power to remarket to website visitors through personalized messaging. Leveraging powerful behavioral, transactional and demographic data combined with sophisticated machine learning, Smarter Remarketer helps retailers engage and reengage visitors through more targeted cross-channel messaging via email and other media. The value provided to retailers is focused on driving incremental revenue and return on customer and marketing spend optimization. This allows them to sell more products and attract and retain more customers, more frequently, at a lower overall cost. Smarter Remarketer powers marketing automation and analysis for top 1,000 online retailers. Learn more at http://www.smarterremarketer.com/
About Fifth Gear
Fifth Gear (http://www.inFifthGear.com) provides outsourced order fulfillment, contact center services, retail technology and marketing services to specialty retailers and manufacturers of consumer products. The Company serves as a single source partner to its clients, providing access to the industry expertise, infrastructure and technology they require to drive revenue growth. Fifth Gear is privately-held and headquartered in Indianapolis, IN. The Company serves over 100 ecommerce and catalog retailers today and continues to expand its portfolio of unique offerings for its multichannel retail clients.