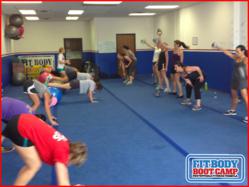 I...now use Fit Body Boot Camp Tulsa as a vehicle to inspire other women to make positive changes in their lives. - Stephanie Flynn, Owner of Fit Body Boot Camp Tulsa
Tulsa, OK (PRWEB) May 29, 2012
Fit Body Boot Camp Tulsa Owner Stephanie Flynn originally identified a need in Tulsa for a boot camp that catered to the distinct needs of women, while also allowing clients to workout 365 days a year regardless of weather conditions. Fit Body Boot Camp Tulsa first opened its doors in April 2011, but quickly outgrew its old facilities.
On April 30, 2012, Fit Body Boot Camp Tulsa moved into a new studio to accommodate the overwhelming demand by Tulsa women for its life-changing indoor boot camp workouts. The new facility has new cutting edge equipment and has added additional workout session times.
Fit Body Boot Camp Tulsa currently trains approximately 200 clients a day and has helped Tulsa women collectively lose a total of over 1,000 pounds. Flynn attributes her success on the unique 35 minute workouts that have a high impact over a short amount of time, coupled with her commitment to help clients both physically and emotionally because she was once in their shoes.
"I had an eating disorder, battled depression and had other unhealthy habits," said Flynn. "I decided to take control and change my life and now use Fit Body Boot Camp Tulsa as a vehicle to inspire other women to make positive changes in their lives."
Flynn is a 2009 Bill Phillips' Transformation Champion, and has been featured in various media including Fox TV's Great Day Green Country and Tulsa People magazine. One of Flynn's goals in starting a fitness boot camp franchise is to take Tulsa off of Men's Health and Men's Fitness Top 40 Fattest Cities in America Lists.
About Fit Body Boot Camp Tulsa
Fit Body Boot Camp Tulsa is owned and operated by Stephanie Flynn. She has a passion for fitness and nutrition, and for helping people. She is also active in the Tulsa Community. For more information about Fit Body Boot Camp Tulsa, visit http://www.fitbodybootcamp.com/site/Tulsa-fit-body-boot-camp or call them at (918) 960-0872.
About Fit Body Boot Camp
Fit Body Boot Camp is one of the fastest growing fitness boot camp franchise companies. Fit Body Boot Camp's Global Goal is to expose and engage twenty of the world's population to a healthy and fit lifestyle by 2020. Fit Body Boot Camp was developed by 2 industry leaders in the fitness industry. Fit Body Boot Camp Owners currently train hundreds of thousands clients on an annual basis. To find out more about starting a fitness boot camp business, you can contact us at opportunity(at)fitbodybootcamp(dot)com.