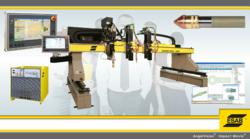 Florence, SC (PRWEB) May 29, 2012
ESAB Cutting Systems has partnered with AngelVision Technologies to produce a new Impact Movie that will be distributed worldwide.
The 3-minute movie showcases new CNC plasma technologies available exclusively from ESAB Cutting Systems in an easy-to-understand format.
"ESAB Cutting Systems deliver complete solutions and our team has a proven track record of making recommendations that lower costs for our customers," said Steve Zlotnicki, Regional Product Line Manager for ESAB. "This movie clearly shows our customers why companies all over the world have chosen ESAB."
The Impact Movie highlights some of ESAB's unique technologies, including Precision Hole Technology, Smart Voltage Height Control, and SmartCycle. The movie also features testimonials from major industry leaders like Jacquet and BAE Systems.
The Impact Movie allows viewers to contact ESAB for a free, no-obligation evaluation. Viewers can also download "Fifteen Tips & Tricks" free of charge. The movie will be hosted on ESAB's North American web site, at esabna.com/cncmovie.
With more than 100 years of experience, ESAB Welding & Cutting Products is one of the world's largest and most skilled manufacturers of welding and cutting equipment and welding filler metals. Recognized as the technological leader in the industry, ESAB is committed to providing customized solutions for their customers. For more information, visit http://www.esab-cutting.com, call 1-800-ESAB123, or watch our 3-minute movie at esabna.com/cncmovie.