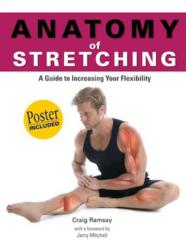 "Stretching is a way of waking up the body and feeling alive!"
San Diego, CA (PRWEB) May 31, 2012
Thunder Bay Press and renowned fitness trainer and Broadway dancer, Craig Ramsay, are excited to announce the release of Mr. Ramsay's new book, Anatomy of Stretching. Aimed at both athletes, dancers and fitness novices, Anatomy of Stretching walks the reader step-by-step through a variety of stretches to connect both body and mind.
With over 12-years of experience, Craig Ramsay is one of the most sought-after trainers in Hollywood and New York City. With a resume that includes dancing on Broadway and appearing on Bravo's hit TV show Thintervention, Mr. Ramsay is respected internationally for his knowledge and experience transforming people's health, body and lives.
"Stretching is a way of waking up the body and feeling alive," said Ramsay. "Our lives become so busy that we often don't take time out in the day for ourselves – we struggle with taking the time to practice proper stretching, yoga and meditation. My stretching programs can be incorporated in that busy lifestyle. These programs can be done with the family or while on the phone, or watching TV – any time that you have an extra few minutes."
As famed choreographer Jerry Mitchell expresses in the forward for the book "No one has to tell a dog to stretch, it's in their DNA to do it." But unlike dogs, humans need coaching when it comes to the proper way to stretch. Through detailed images of what the muscles are doing beneath the skin during the various moves, Anatomy of Stretching helps the reader attain a deeper understanding of their body and exercise routine.
"Being a dancer means you need to be an expert stretcher - we need stretching to maintain our body, and ultimately our career," adds Ramsay. "Using my training, I outline and focus on proper technique throughout the book with the main goal to protect the body while building strength and endurance."
Anatomy of Stretching ($19.95, 160 pages, ISBN 978-1-60710-398-1) will be available mid-June online at amazon.com and barnesandnoble.com and can be found wherever fine books are sold.
About Thunder Bay Press:
Thunder Bay Press (http://www.thunderbaybooks.com) is an imprint of Baker & Taylor Publishing Group, the largest distributor of traditional and digital media in the world. Thunder Bay is a collection of coffee table-style reference books suitable for gift-giving on the subjects of art, architecture, pets, cooking, travel, culture, hobbies, religion, transportation and nature. Thunder Bay Press is perhaps most known for its best-selling Then and Now series.
Media Contacts:
Baker & Taylor Publishing Group/Thunder Bay
Press Beth Avant 858-457-2500, ext. 3602
Beth.avant(at)baker-taylor(dot)com