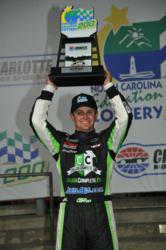 We ran really good at Dover my rookie year. It was my first top-five finish, actually. But last year we struggled a little bit. It is one of my favorite tracks. I'm looking forward to going there to see if we can't get back-to-back wins
Huntersville, NC (PRWEB) May 29, 2012
Justin Lofton, the most recent NASCAR Camping World Truck Series (NCWTS) race winner, enters this week's race at the Dover International Speedway as the new points leader. His position is definitely deserved, as the first five races provided Lofton and the No. 6 College Complete (http://www.collegecomplete.com, 877-543-2655) Eddie Sharp Racing (ESR) team with a race win, three top-five and five top-10 finishes.
"It's been a great start to the season," Lofton said. "Getting that win in Charlotte meant a lot. To be able to get not only my first win, but to be able to give Dan (Bormann, crew chief), Eddie (Sharp, team owner) and our sponsor College Complete their first wins too, that really meant a lot to me."
With plans to stretch his lead atop the point standings from just one point to a more comfortable gap, this week Lofton and Bormann will unload truck number 49 at Dover for Friday's Lucas Oil 200. The College Complete team previously raced the truck at Rockingham in April and finished 10th.
While Rockingham is known for its legendary abrasive surface, Dover is in a category all its own. Steep banking and fast concrete provide the track with the nickname the "Monster Mile." The Dover trophy has become one of the most prestigious to win on the circuit, because taming Miles the Monster isn't always an easy thing.
In 2010 Lofton finished an impressive third against the Mile, but last season he was involved in an accident and finished 25th.
"We ran really good at Dover my rookie year. It was my first top-five finish, actually. But last year we struggled a little bit. It is one of my favorite tracks. I'm looking forward to going there to see if we can't get back-to-back wins," Lofton added.
"My roommate, and one of my best friends, his name is Miles. I beat him on Xbox a lot, but it sure would be nice to be able to say I beat the monster Miles. I'd like to put that trophy right next to the TV. It can taunt the other Miles every time we play a game on there."
Fans attending the Dover activities can meet Lofton prior to the 200-mile race from 12:30 to 1:30 on Friday during a NCWTS autograph session in the FanZone located outside of turn 4.
About Eddie Sharp Racing:
Eddie Sharp Racing (TeamESR.com) is a 40,000 square foot championship winning race team based in Denver, NC. After just four short years of competition within the ARCA Racing Series, the team impressively accumulated upwards of 20 race wins. 2009 was a pivotal year for ESR, as they dominated the series with six race wins, 15 top-fives and 19 top-10s en route to the series championship with driver Justin Lofton. In 2010, ESR made the transition to the NASCAR Camping World Truck Series. In 2011, owner Sharp and Lofton were reunited within truck competition. In 2012, ESR will expand to three teams, with Lofton set to return to the No. 6 CollegeComplete.com Chevrolet Silverado, Cale Gale set to join the team behind the wheel of the No. 33 Rheem Chevrolet Silverado, and Mike Skinner in the No. 8 Chevrolet Silverado.
About College Complete:
Partnered with hundreds of educational institutions and across all types of education goals, including traditional college degrees, trade and vocational certifications, and professional licensure, College Complete helps students assess all of the information that exists in the public domain, allowing them to understand and make sense of their educational opportunities. Their services are free and available to anyone. Whether you are interested in Art and Design, Business, Computers and Technology, Criminal Justice, Education, Healthcare and Medical, Science and Engineering, and much, much more; if you're an Electrician, a Nurse, an Automotive Mechanic, a Teacher, a Police Officer, or you're simply interested in learning Computer Programming, Networking, Web Development, or Graphic Design College Complete is available for you at no cost. You can reach them by filling out a form on their site or calling to speak with your personal Education Advocate at 877-543-2655. College Complete has an initiative to assist those in the US Armed Forces and their families and is able to assist in identifying schools that will not only provide the educational requirements of the soldier, veteran or family member but will do so in a cost effective manner.