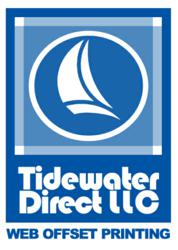 Centreville, MD (PRWEB) May 30, 2012
Tidewater Direct, a web offset printing company with 3 plants in the United States, reported Tuesday that it purchased an 8 unit Sunday 2000 printing press to install at its 100,000 square-foot Centreville, MD printing facility. While its Baltimore and West Branch facilities have benefitted from significant investments to their pressrooms, this marks the first major investment in printing technology in the Centreville plant since Tidewater Direct began operations in 2006. The first installation of the press is projected to be operational in mid-September, 2012.
The press is currently configured as one press capable of running 2 webs into a folder. Tidewater Direct will repurpose this equipment and intends to separate the press into two independent 4 color presses that deliver into sheeters. In this direction, it will be the ideal complement to Tidewater Direct's business model of providing high quality direct mail component parts to direct mail contractors across the United States. Most specifically, this press will propel Tidewater to the forefront of the high quality, high color brochure market. Tidewater prides itself on high quality direct mail printing, including continuous forms printing, generic direct mail inserts, and pharmaceutical printing.
The Sunday press, equipped closed loop color control and automatic registration control, is rated at speeds of up to 2400 feet per minute which is a significant increase in productivity as compared to the Centreville plant's current equipment lineup. Furthermore, the extended dryers feature internal VOC destruction, which align with Tidewater's environmental policy of having as minimal impact as possible. The press is designed with 22.25"cylinders, which is optimal for a variety of formats and layouts. The press width of 38" provides for a significant throughput.
"We continue to reinvest in our company to provide our clients better quality printed products with faster turnaround times," remarked Ken Boone, President of Tidewater Direct. He added, "Most importantly, we keep our costs low so that the high quality product and service we provide can be delivered at prices that can be resold to end users."
Geoffrey Eisenberg, Vice President of Operations for Tidewater Direct, also serves as the general manager of the Centreville facility where the press will be installed. Geoff believes that "Bringing quality, high-color capability into our Centreville plant will allow for aggressive expansion in the generic insert market that we serve." He also noted, "Bringing in two presses at once will ultimately provide redundancy that will improve scheduling reliability and operator performance."